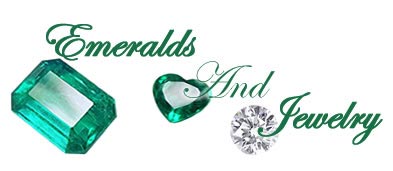 Emerald Earrings for Sale Natural Colombian Emeralds in USA
All Emerald Earrings Are Ready to Ship Within 24 Hours, Free S&H in The U.S.A.
Natural Emerald Earrings Designs and Manufacture:
In the world of gems, the most difficult to get matching pairs are Emeralds, especially from Colombia, because they are cut by hand and not in standard measures.
So, these genuine or natural gems in decent quality are not very abundant and they are expensive.
These gemstones are cut according to their rough shape and color position in the stone, making the most of their expensive material, the best possible cut. More weight, more carats, more value and it is for this reason that it is almost impossible to find two equal emeralds in the market.

When I go to Colombia, I buy what is available in the market at the time, it is difficult to find what I want and in the quantity I want. The market depends on the raw production in the mines and what finally it is available for sale in free trade in the offices where they are traded.

After buying many of these gemstones, the ones that could be similar pairs are selected and if it is necessary to re-cut some of them without changing their color, although they are not perfectly equal yet.

On the jeweler's bench, it is another odyssey, because its measurements are not standard as in semi-precious gems and there is no gold jewelry produced in factories that fit the length and width of the hand-cut gems.

This is the reason why almost all the gold boxes to set emeralds or settings have to be made by hand, or in a computer wax printer to fit the measures of it, in a professional work; for the safety and protection of the gem and in the jewel.