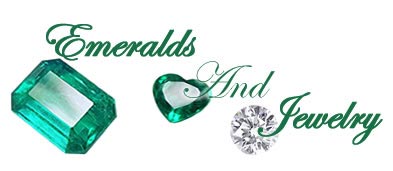 Mother's Day Jewelry Emerald Rings Earrings Necklaces and More Gift Ideas
Moms are honored on their day as the most important person in home especially if their birthday is in the month of May;
equally for the moms to be on any day of the year; what better than a jewel with an emerald that is full of meaning of love, hope and loyalty?
Tips for the Care of Your Emerald Rings:
All gems in prong-set have less protection against accidental hits on hard surfaces, since wearing in the hands normally they are very exposed to impacts. It is for that reason we strongly recommend removing the jewelry from your hands to do hard work and thus avoid unfortunate losses in your precious jewelry. All the emeralds that we offer here on our web-page are from the Colombian mines origin and they are very bright and beautiful, but in order for them to remain that way, you must take permanent care of them from mistreatment. Cleaning them frequently with warm water and a soap grease remover without solvents such as acetone; to keep your jewelry clean for as long as possible, wear them after applying lotions and creams to your hands, so they do not become cloudy when smeared with them... See more All rings on this page are made in the USA by Emeralds & Jewelry Corp. by an expert goldsmith jeweler and setter, each setting must be made by hand and for each gemstone.
From ancient times humans have used jewelry to adorn their bodies, fasten clothing, as talismans, healing purposes or as marker of social and personal status. The materials used to create jewelry and the manufacturing methods have changed throughout the history but I would say that in the last decades regardless of the gender the use of precious metals and colorful gemstones have increased notoriously. One of the jewelry ornaments that has gained popularity in our modern society is the birthstone for each month, the emerald is the birthstone for May, which is also the mother's month; an excellent gift also for a new mom born in the month of May.