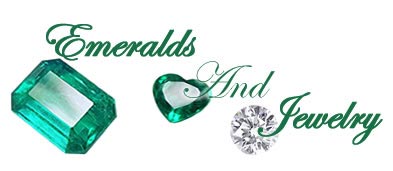 Natural Emerald Rings For Sale Genuine Emerald Jewelry
Affordable prices fast delivery free S&H with in 24 hrs.
GENUINE - NATURAL - REAL - AUTHENTIC - LAND BORN – EARTH MINED... have the same meaning.
We offer FREE shipping and FAST delivery on every order within USA All orders are shipped full ensured 24 hours, after payment clearance
How to Buy Genuine Emerald Rings and Identified if it is Real or Fake?
The difference between a natural and a synthetic (Man Made or lab created) emerald imitation can be difficult for the average person to determine and far more difficult if the gemstone is set already in a metal mounting.

Never inspect a ring without a X10 lope, if you don't have one, ask the seller for a 10x lope or a good magnifying lens and a bright light. If you see tiny flaws or "irregular patterns" within the stone and (this is a very important detail) small natural holes or tiny deep lines especially in the pavilion (the backside) of the gemstone, this is an indication that it may be a natural emerald.

Make a very sharp inspection on the girdle of the gem looking for material fused together or assembled in layers If you don't have access to inspect the girdle and pavilion, I wouldn't buy the item, there is a lot of tricks like doublets made with the same material of emeralds with identical characteristics of them and color enhance in the mounting among many others. If you are buying a bezel setting emerald ring make sure it has access to the pavilion for inspection and further cleaning process. But also there are emeralds and other color gemstones with a remarkable color zone... If you are buying ONLINE a ring where beautiful computer renderings are shown, this means you are ordering a customized piece or a special order item that is not returnable for refund or exchange. This is normally why these jewelers specify two weeks to ship your item. Most retailers Online display impressive computer made renderings (not photographs of the actual item you will receive). What they are offering does not exist yet — at least it's not already finished and ready to ship to you. So gold mounting has to be ordered; the right gemstone (size, color and quality) has to be located and then the gem setter has to make the item. This is a much more expensive way to buy because the store is ordering a single piece in addition to a normal 50% of profit —> all included in the price you have paid.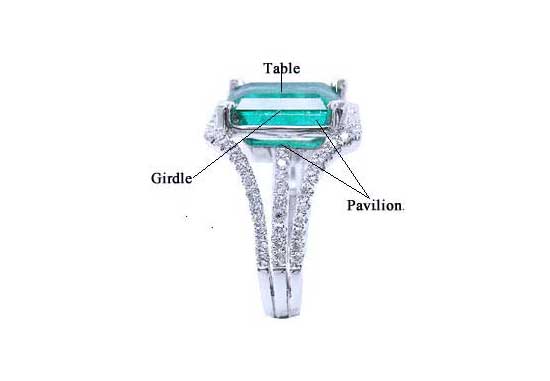 NORMALY A GEENUINE EMERALD RING MUS BE SET WITH GIRDLE ON SIGHT AND VIEW ACCESS TO THE PAVILION
The most desired shape is the emerald cut in engagement rings. There are a lot of different styles and designs but always the girdle and pavilion of all gemstones must be exposed on sight (but not too high) for inspection and future cleaning procedures in all items. In bezel setting gemstones, the pavilion must be open at the bottom NOT CLOSED.
A SYNTHETIC GREEN LAYER FUSED BETWEEN TWO COLORLESS LAYERS OF AUTHENTIC VERYL
You can see the natural flaws and even natural holes because the material on both sides of the doublet are genuine colorless emerald layers, that is why the salesperson will tell you "THIS IS A REAL NATURAL GEM! on the front view it looks like a beautiful high quality emerald. So it is very important to inspect the GIRDLE with a X10 lope looking for the assemblage.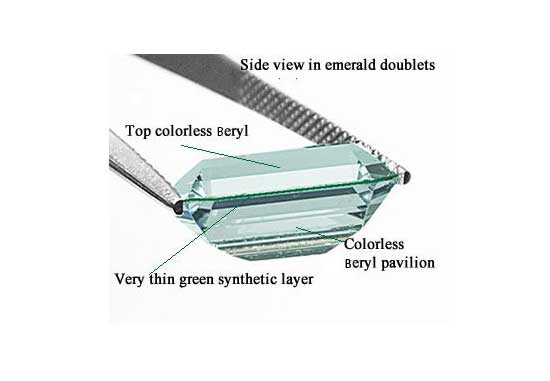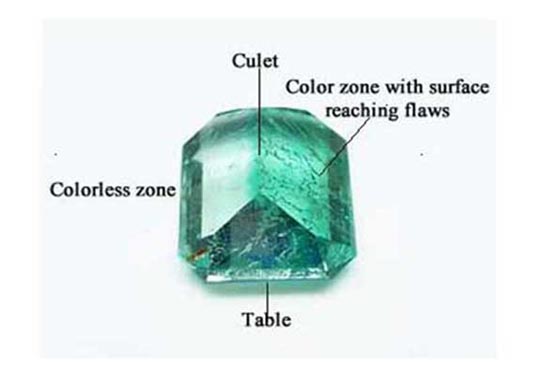 BUT BE CAREFUL ZONED COLOR IN PRECIOUS GEMSTONES IS COMMON
This is a genuine Colombian emerald with a remarkable color zone which keeps its natural flaws in it, becoming natural holes and scratches on the surface of the pavilion, if more polish, less color, the color zone reaches the culet to make sure that the frontal view all color spreads to all the gemstone.
DON'T BE CONFUSED:
There are laboratories creating "green stones" OR IMMITATIONS, very similar in chemical composition to natural emeralds. These lab created stones are so identical to the natural ones, some even include the apparent natural flaws inside of the stone. Jewelery stores may display these stones with different names such as "lab grown," "Chatham," "man made," and "lab created." These imitation of "emeralds" can be larger, have nicer color, and contain fewer flaws than real mined ones and their composition may also be comparable to natural emeralds. However, the fact that their cost is usually a fraction of the price of the real natural mined emeralds.
MORE INFORMATION ABOUT MAN-MADE OR IMMITATIONS in gemstones