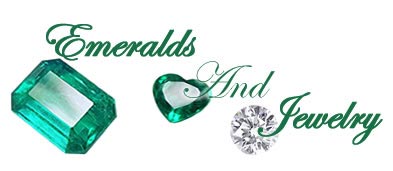 Emerald Bracelets with Colombian Emeralds
Our one of a kind designs are proudly made in the USA, by Emeralds & Jewelry Corp. We stand behind our products, all details in the description field are 100% accurate. You will receive exactly the same beautiful jewelry item displayed in the pictures and videos; we do not use computer renderings. All items Are Ready to Ship, Free S&H in The U.S.A.
in emerald jewelry: browse our newest designs:
Our jewelry inventory is limited due to the fact these items are very unique
About Emerald Bracelets Manufacture and Care:
Most of our designs must be projected with the idea of making the central part by hand or create the design on a computer and then printing it in wax (CAD), where the gem is going to be set.
If the design involves several emeralds in the central part of the jewel, then the entire central bar must be handcrafted with extreme precision to the size of the gemstones that must have the same color, quality and brightness.
Emerald Tennis Bracelets made with frames already made in factories, normally calibrated for gems all of the same size, then to get all of them calibrated of the same quality, color, brightness, size and cut, it's hard and expensive task.
When a bracelet is tight on the wrist, it is uncomfortable, and its closure can be easily damaged due to the constant pulling pressure on it and it can come loose from the hand.
If on the contrary it is loose, it will be permanently hitting on all sides as if it were a whip, the emeralds will break easily and immediately come off the frame, which happens frequently in tennis bracelets.
Keep in mind that the jewels are to be worn with delicacy and due care, abuse is expensive, whoever the jewel is. Avoid getting soaked in creams and lotions, wear the jewelry on your hand after applying these on your skin.
To clean an emerald bracelet, it should be left overnight in water with a grease remover soap, never use solvents that affect emeralds, the next day, with a toothbrush, rub it in all directions. especially on the back of the bracelet underneath of the gems; where more dirt accumulates and dulls them; rinse it with warm tap water and dry it with a towel.