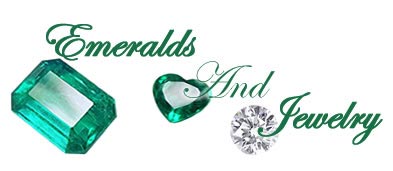 Emeralds & Jewelry Corp. USA
ABOUT OUR COMPANY AND PRODUCTS
Emeralds & Jewelry Corp. is a licensed family owned business that operates in Hollywood, Florida. We have been selling fine emerald jewelry at unbeatable factory prices directly to the public since 2000. All our designs are one-of-a-kind pieces, available in stock and ready to be shipped out. We are not drop shippers or intermediaries.
YES, we really do! Since I travel to Colombia at least three times a year to acquire genuine emeralds directly from the source (the very same place where I used to be a reputable dealer of rough, uncut emeralds for more than 15 years). My Customs brokers make the formal entry of the emeralds into USA conflict-free. Once the loose emeralds are on my work bench, I classify them by shape and quality to decide what type of gold mounting they will fit best (e.g., ring, pendant) in order to manufacture an elegant, one-of-a-kind piece. Last, but not the least important thing I do is to take photos of each piece, upload them onto this website catalog to offer you, the public, the nicest pieces at incredibly low manufacturer's prices. As you can see, my expertise with the emerald market allows me to buy emeralds directly from the source -- there are no middle men such as second hand international Colombian exporters; USA dealers' importers; jeweler's labor; stores' resellers; and all other intermediaries that increase three or four times the price. I am able to cut out the middle men on each stage of the buying process and manufacture my emerald jewelry. Now, I hope you understand why I do not offer fictitious discounts (60 % - 80 % OFF). I just pass on all my savings to you.
No. We do not have points of sale on cruise lines, in the Bahamas or any other Caribbean island. Our exclusive emerald jewelry can be acquired only through our web site (www.emeraldsandjewelry.com)
No. We do not have points of sale on cruise lines,
in the Bahamas or any other Caribbean island. Our exclusive emerald jewelry can be acquired only through
our web site (www.emeraldsandjewelry.com)
All emeralds set in our exclusive designs are from Colombia, we do not sell emeralds mined in other countries.
Colombian emeralds have unique features like different shades of green, remarkable brilliance and the undeniable presence of natural gardens (natural flaws). These precious gems are cut, faceted and polished by hand. This native cutting process makes our Colombian emeralds absolutely recognizable. Most importantly, we personally travel to Colombia to acquire parcels of loose emeralds. We hand-pick and inspect each stone to ensure we can offer you the best quality possible.
As a matter of fact, emeralds do not have a unified price and quality grading scale as diamonds do. Contrary to diamonds which all have very similar characteristics (white and brilliant) and are mostly valued for their clarity and symmetry, emeralds are totally different. Depending on their country of origin, these precious gems develop particular hues and unique internal features. Thus, each emerald is judged and valued individually.
All emeralds are routinely oiled as part of the post-lapidary process. Natural oils provide moisture to the emeralds' surfaces, improving their appearance (vivid green color, natural flaws are less obvious). After the cutting, faceting and polishing process, all emeralds get a dirty or dull appearance because the dust-like particles generated during the grinding process sticks to their facets or penetrate deeply into any tiny pore left on the girdle or pavilion. Colombian cutters use nitric and hydrochloric acid to clean the finished emeralds. The loose stones are placed into a glass jar with the acids for at least a twelve hour period. During the last stage "post-lapidary process", the oil treatment is performed to bring out the emeralds' natural green color and brightness.
Colombian emerald mines produce stones with different shades of green from the very light green to dark green. The amount of inclusions (clarity) also varies from heavily included to totally eye clean. We mostly acquire parcels of loose emeralds with medium to deep green color. We personally hand-pick stones that contain minimal or moderate natural flaws. Some of the pieces exhibited in our web catalog have from good to excellent quality (almost clean to naked eye). It is indicated in the description chart of each item.
Not necessarily. Dark emeralds usually lack brightness and are typically moderately or heavily included. When looking for good quality emeralds, besides the emerald's hue, another important aspect to take into consideration is the clarity. Clarity refers to the presence or absence of inclusions or natural flaws. The less noticeable the flaws, the better the quality. High quality or top of the line quality emeralds are very rare and prices rise considerably as carat weights increase. There is more information on this topic in our blog
ORDERING AND SHIPPING
Yes!!! Our exclusive emerald jewelry is available in stock, waiting to be packed and shipped out. You will receive exactly the same item displayed in the pictures; we do not use computer renderings to offer nonexistent items.
No. All items displayed in our web catalog are available for sale AS IS condition.
Most of our rings are manufactured with standard USA sizes (6 or 7), for women (9 or 10) for men, although they can be altered one size up or down by any professional jeweler. We can do it at no additional cost, but as a final sale (not returnable item).
Yes, if we have in stock the emerald you want and we own the mold of your requested piece. We mostly make special orders for repeat customers, they order matching pieces.
When a prospective buyer wants us to manufacture his/her own design and we do not have the piece available in stock for the appropriate emerald, it becomes a very expensive order. This is due to the fact that we would have to rely on domestic dealers or intermediaries to find the emerald that meets the buyer's personal expectations. Also we would have to pass on to you the additional fees (computer aided design and extra labor costs). This type of custom order could easily take 4-5 weeks, requires advance payment and it does not have our normal return policy. Knowing the disadvantages of a custom order, it's wiser to purchase our "ready to wear" pieces. You will get beautiful quality emerald jewelry while maintaining your budget.
We're sorry but setting emeralds is a risky undertaking. We would rather not assume the risk of manipulating an emerald whose origin and condition is completely unknown for us.
No. Each item is unique and the web offer price only applies to the displayed item. We do not manufacture jewelry in series or large lots because it's not possible to acquire Colombian emeralds with the same shape, color and quality to keep fixed prices. Sometimes we repeat models, but their prices vary depending on the emerald carat size and quality as well as the gold price (it fluctuates daily).
Once you have chosen the desire item (s), just click on the orange bottom that says "ADD TO CART" to initiate the check out process, you will be guided to submit your payment though PayPal or any of our payment method that you prefer.
No, we do not process payments over the phone. To process a card not- present transaction (internet order) we must verify the shipping address and card holder information electronically.
Yes, if it is a domestic order (USA buyer), we accept personal checks, money orders, cashier's checks, direct bank deposit or wire transfers. Just call or e-mail us to let us know the item's reference number you are interesting and your preferred method of payment. We will gladly give you specific instructions to send the payment and will let you know the estimated time to process and ship your order. For international orders (overseas buyers), we can only accept payments through PayPal and by wire transfers. Please contact us to request our bank information.
Due to individual countries' import regulations and restrictions, we are currently shipping emerald jewelry to the following countries: Australia, Canada, Denmark, England, France, Spain, Germany, Hong Kong, Japan, and the United Kingdom.
We offer free shipping with any order shipped within the United States. Parcels are shipped via USPS Priority mail (delivery within 2-3 business days). Express or overnight shipping is available at an additional cost. Please contact us for details.
International orders: can be shipped for a flat rate (USD $95.00) via UPS (United Parcel Service). The average delivery time is 4 -5 business days. Please contact us to request a shipping quote. Fees vary depending upon country destination and total insurance amount required.
If your order has been paid by credit or debit card and the shipping address is confirmed, we will ship it out the next business day. If the shipping address has an unconfirmed status (billing address does not match shipping address), the shipment will experience some delay (48 hours or until we can reach you to verify the information). Please note that any PayPal e-check payment must clear before we are able to ship your order. This typically takes 3-5 business days. After shipment, we'll send you the tracking number by e-mail.
We only charge sales tax to Florida residents (7.0 %). We do not collect taxes on orders shipped to other states. or other counties.
Our web prices are the lowest prices we can sell our exclusive designs for. Thus, they are not negotiable. We calculate our prices using the current Colombian emerald market as well as the gold price (it fluctuates daily).
We do not produce printed catalogs or brochures. We are constantly adding to and updating our inventory of emerald designs.
No. All of our emerald designs are unique pieces. Items must be available to ship as soon as electronic payment is received. Our pieces are sold on a first come, first served basis.
Yes, you can. Returns/exchanges must be done within three business days upon receipt. Prior to shipping the item back, you must contact us by e-mail to get authorization and instructions for a safe return. The return request must state: buyer's name, date of purchase, item and sales receipt reference number.
We feel seven days is enough time to review the purchased item to make sure it is as described, perhaps you want to take it to your personal jeweler to be professionally inspected and hear his/her opinion. We do not offer an extended return policy (30-90 days) like other jewelry companies do as we do not resale items previously enjoyed.
Once the returned item is back in stock, we will issue a refund the next business day in the same manner as the original payment.