We Sell Only Natural Emeralds and Genuine Emerald Jewelry!
How to Tell if an Emerald is Real or Fake
The finest natural emeralds in the world today are mined in Colombia, South America. Sellers of gemstones will usually tell you their emeralds are from Colombia because Colombian emeralds are the most desirable and valuable. Zambia, Brazil, Afghanistan and Pakistan also produce beautiful, good quality emeralds. However, each emerald has distinctions (color combinations and other inherent attributes) that distinguish and tie it to the region of the world from where it was mined. Only someone with expertise and superior knowledge can determine a stone's origin.
The difference between a natural and a synthetic (or lab created) emerald can be difficult for the average person to determine. The following steps show how you can discover if an emerald is real . . . or not.
There are laboratories creating "green stones" very similar in chemical composition to natural emeralds. These lab created stones are so identical to the natural ones, some even include the apparent natural flaws inside of the stone. A number of stores may display these stones with different names such as "lab grown," "Chatham," "man made," and "lab created." These "emeralds" can be larger, have nicer color, and contain fewer flaws than real mined emeralds and their composition may also be comparable to natural emeralds. However, the fact that their cost is usually a fraction of the price of the real natural mined emeralds.
An emerald having a very vivid and intense shade of green; extremely clean with the same brilliant luster (shine) visible on a natural emerald of far greater quality (and cost!), and with a price tag of only USD $500 (or less) per carat, indicates that this is not a realistic price for a real natural emerald. When the price is suspiciously low, you are probably looking at a lab created emerald. Also be aware that there are unscrupulous merchants deceiving uninformed buyers by offering fake emeralds at normal "real emerald" prices. Always ask if the emeralds you are looking at are created or natural.
Ask the seller for a 10x loupe and a bright lightor a good magnifying lens. If you see tiny flaws or irregular patterns within the stone and (this is a very important detail) small natural holes or tiny deep lines especially in the pavilion (the backside) of the gemstone, this is an indication that it may be a natural emerald. Make sure you check for air bubbles BECAUSE normally natural emeralds don't have isolated air bubbles.
The best place to buy emeralds or emerald jewelry is to buy from a reputable licensed jeweler where you can contact them and speak with someone personally, not via phone numbers with voice mail and no human contact. The sales receipt from the store showing your purchase SHOULD ALWAYS state the exact information about the item including: shape or cut, emerald gemstone size(s), carat weight and origin of the gemstone, and certifying that it is a natural or a mined emerald. Read the return policy and make sure you have a money back guarantee if something is not real or as stated with the natural emerald you have purchased.
https://www.emeraldsandjewelry.com When you purchase any of our exclusive emerald designs or a loose emerald, we provide you a Jewelry Sales Receipt that displays a colorful picture of the item, it also describes the item's attributes (central gem & setting) as well as the sales price. If the purchased item is valued $7,000.00 USD or more, besides of the jewelry sales receipt, we provide you an appraisal at no additional cost to you; the appraisal is a document stating the approximate retail replacement value of the item, it is prepared by a GIA graduated gemologist who also is a certified insurance appraiser.
Real emeralds & fake emeralds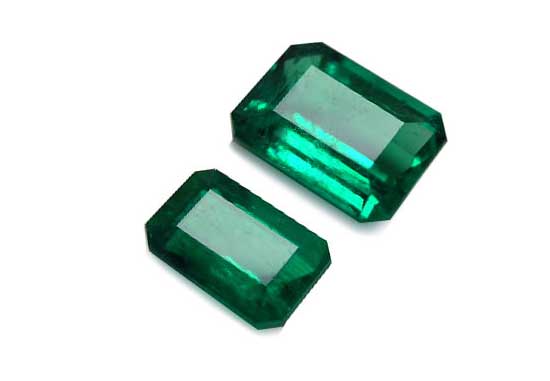 Table view real Colombian emeralds
NATURAL EMERALDS ON THE TOP MUST BE CLEAN (FREE OF FRACTURES, CRACKS OR HOLES) GOOD SYMMETRY AND FACETS SHOULD BE ALIGNED STRAIGHT IN RELATION TO THE GEM'S GIRDLE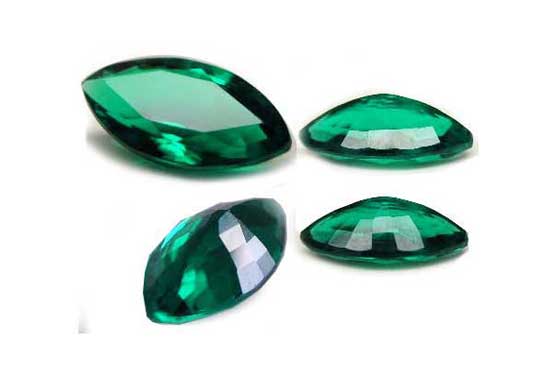 marquise fake lab stones
ALMOST PERFECT CUT GOOD SYMMETRY AND BEAUTIFUL COLOR BUT FAKE EMERALDS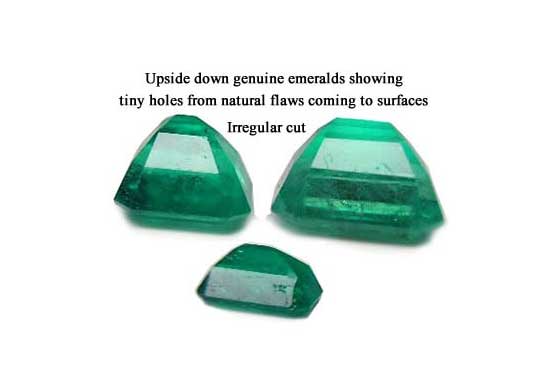 normal irregular cut in genuine emeralds
FLAWS IN NATURAL EMERALDS COMING UP TO THE PAVILION FACETS IS NORMAL, ALSO THE IRREGULAR CUT IS NORMAL IN NATURAL EMERALD'S PAVILION TO PRESERVE THE COLOR, ALL NATURAL COLOMBIAN EMERALDS ARE HAND-CUT.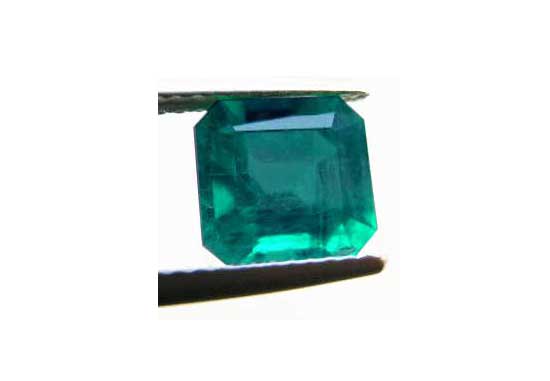 Coscuez mine emerald
GENUINE COLOMBIAN EMERALD FROM COSCUEZ MINES A LITTLE BIT YELLOW MEDIUM TO DEEP COLOR, VISIBLE NATURAL FLOWS BUT NOT CRACKS, FRACTURES OR BLACK CARBON SPOTS, SQUARE EMERALD CUT MEDIUM QUALITY.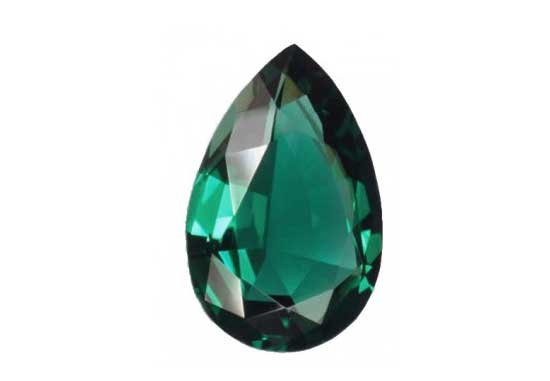 Fake pear shaped emerald
CLEAN, VERY BRILLIANT AND DEEP GREEN COLOR BUT FAKE EMERALD OR LAB CREATED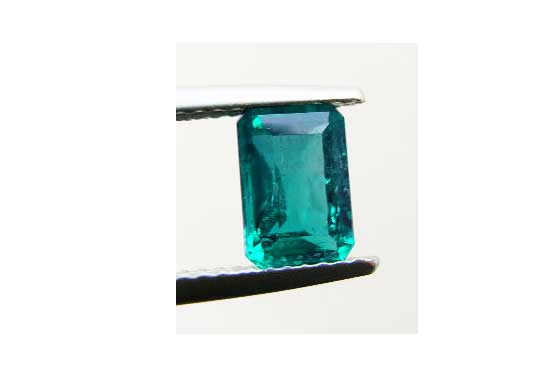 Bluish green natural Muzo emerald
GENUINE COLOMBIAN EMERALD FROM MUZO MINES, VIBRANT GREEN BLUISH MEDIUM-DEEP COLOR NATURAL FLOWS BUT NOT FRACTURES OR BLACK CARBON SPOTS, RECTANGLE EMERALD CUT MEDIUM TO GOOD QUALITY