About Ethiopian opals or Welo Opals
Ethiopian opals are stable and reliable for the production of fine jewelry, of course they require careful treatment for those who wear this type of jewelry, they can break or chip with strong blows or scratched with harder materials, such as other gems, especially against diamonds, they must be stored separately in a dry place.
.
How to Care for Ethiopian Opals:
Ethiopian opals or Welo Opals are a type of hydrophane formation and are of volcanic origin, their material is porous internally, although on its surface it looks polished and shiny, as if it had a natural way of resisting a little humidity, but inside It can absorb a good amount of water, either by immersion or by prolonged contact with liquids or wet wraps.
If by some mistake it is moistened with clean water, its color fades, you just have to wait for it to dry and it will be as beautiful as before, because its structure has not been damaged or contaminated, but if it has been moistened with liquids with other substances such as perfumes lotions or moisturizing creams, over time it can dry out, but substances that are not water, will remain inside the opal and that permanently deteriorates its color.
.
If you Want to Clean Your Ethiopian Opal:
No problem: Take a clean water wet cloth and rub your opal all over, or with a toothbrush and clean tap water, brush your piece all over, in less than one minute that the procedure is delayed it will not absorb water, then dry it well with a towel or soft paper.
As a comment: I have put Ethiopian opals submerged in water for up to five minutes and nothing has happened to them. Of course I do not advise you to do so and if you do it will be at your own risk and I do not assume responsibility for my comment.
When I have had to drill some opals to insert a stem into them to hold the bail, I put water in the drill to have a better and faster drilling without it heating up and breaking the opal, the clean water that I use penetrates the walls of the drilled and turns milky pale around the hole, I wait for it to dry and return to normal and insert the stem; They look beautiful.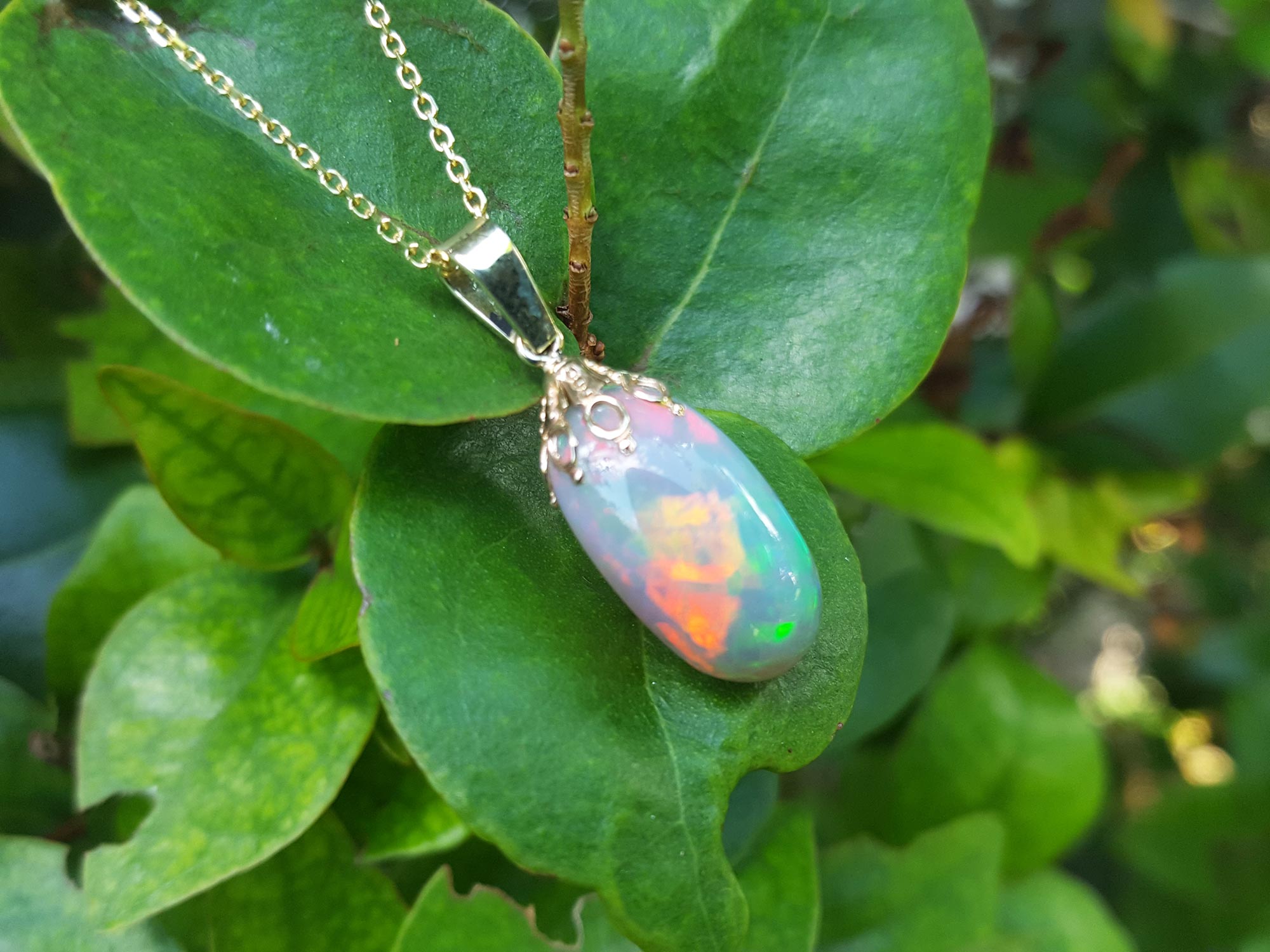 Transparent crystalline Ethiopian opals
Precious opals or fine opals come in transparent crystalline form, white and yellowish body, generally throughout their structure and show flashes of each color of the rainbow from any angle in an impressive way that seems fantasy and hard to believe they are real natural opals, like the one I show in this picture.