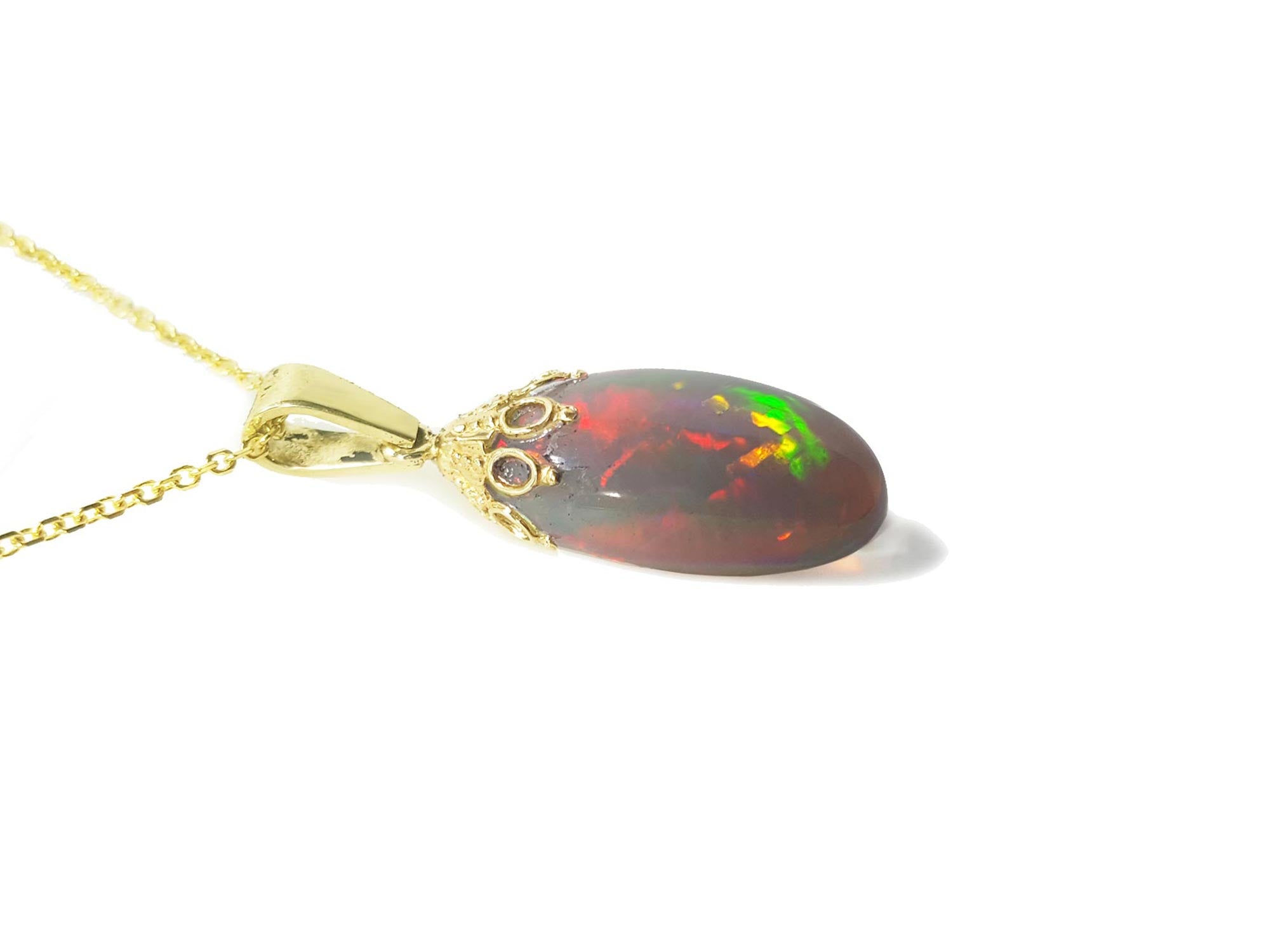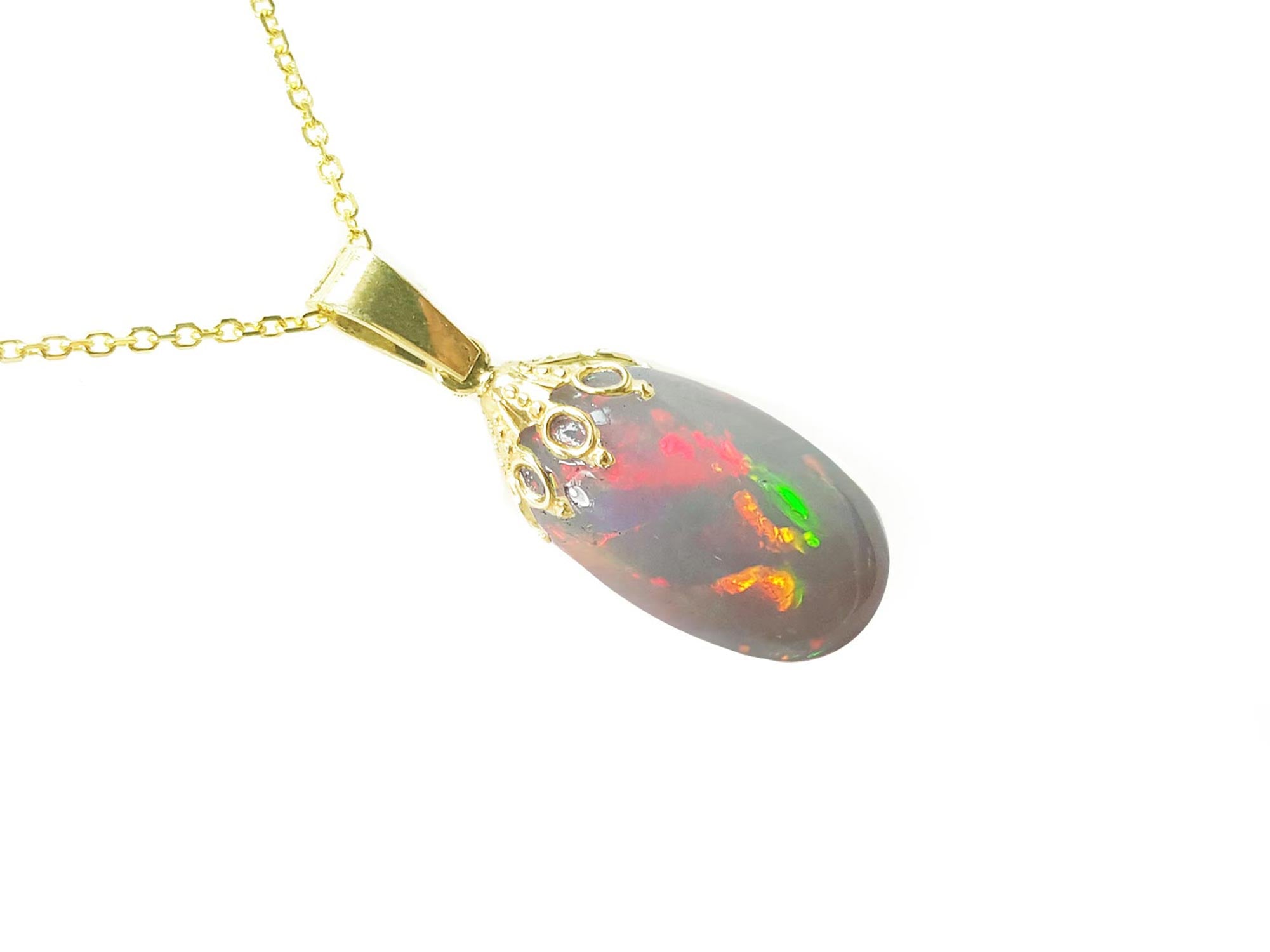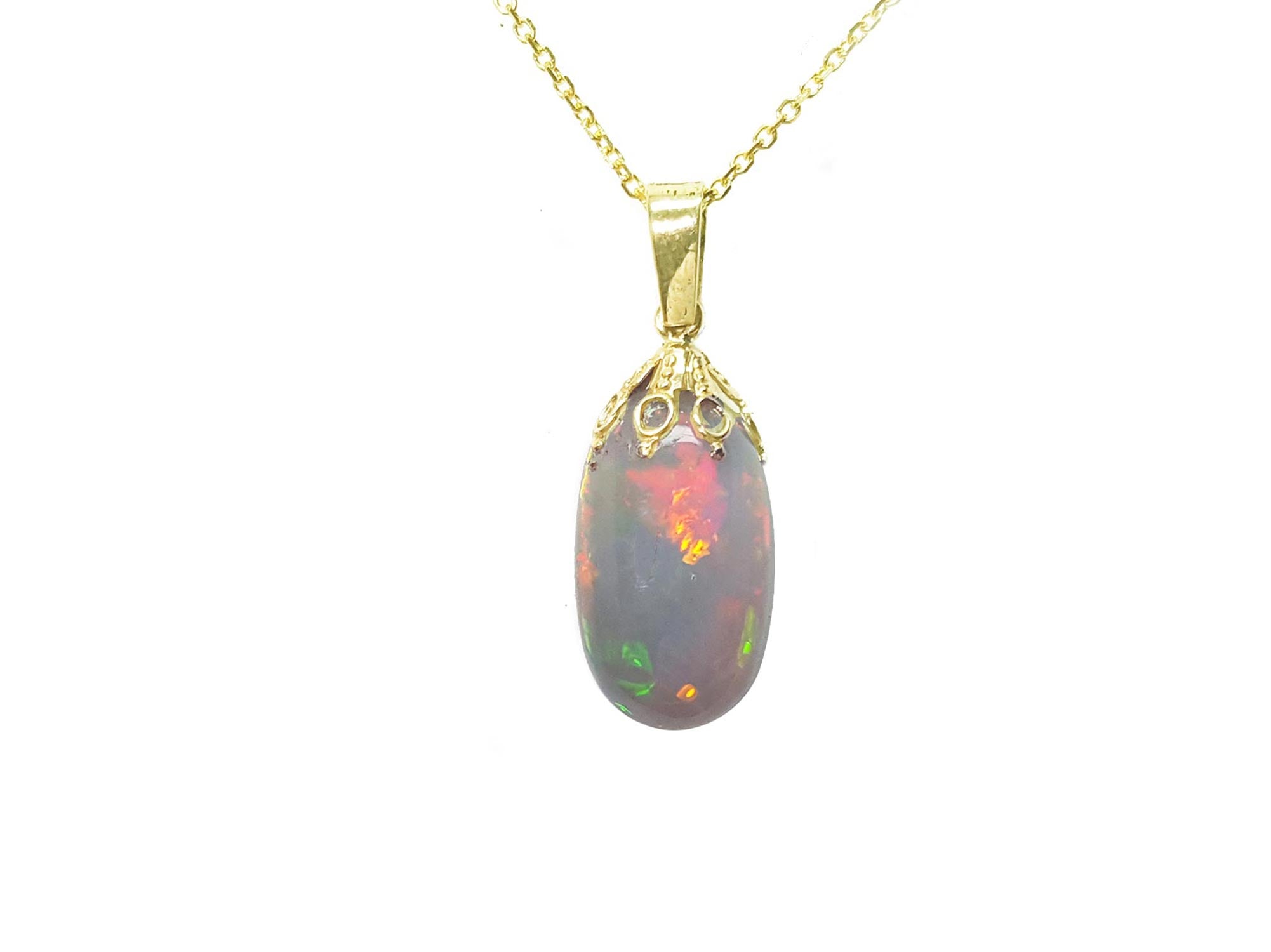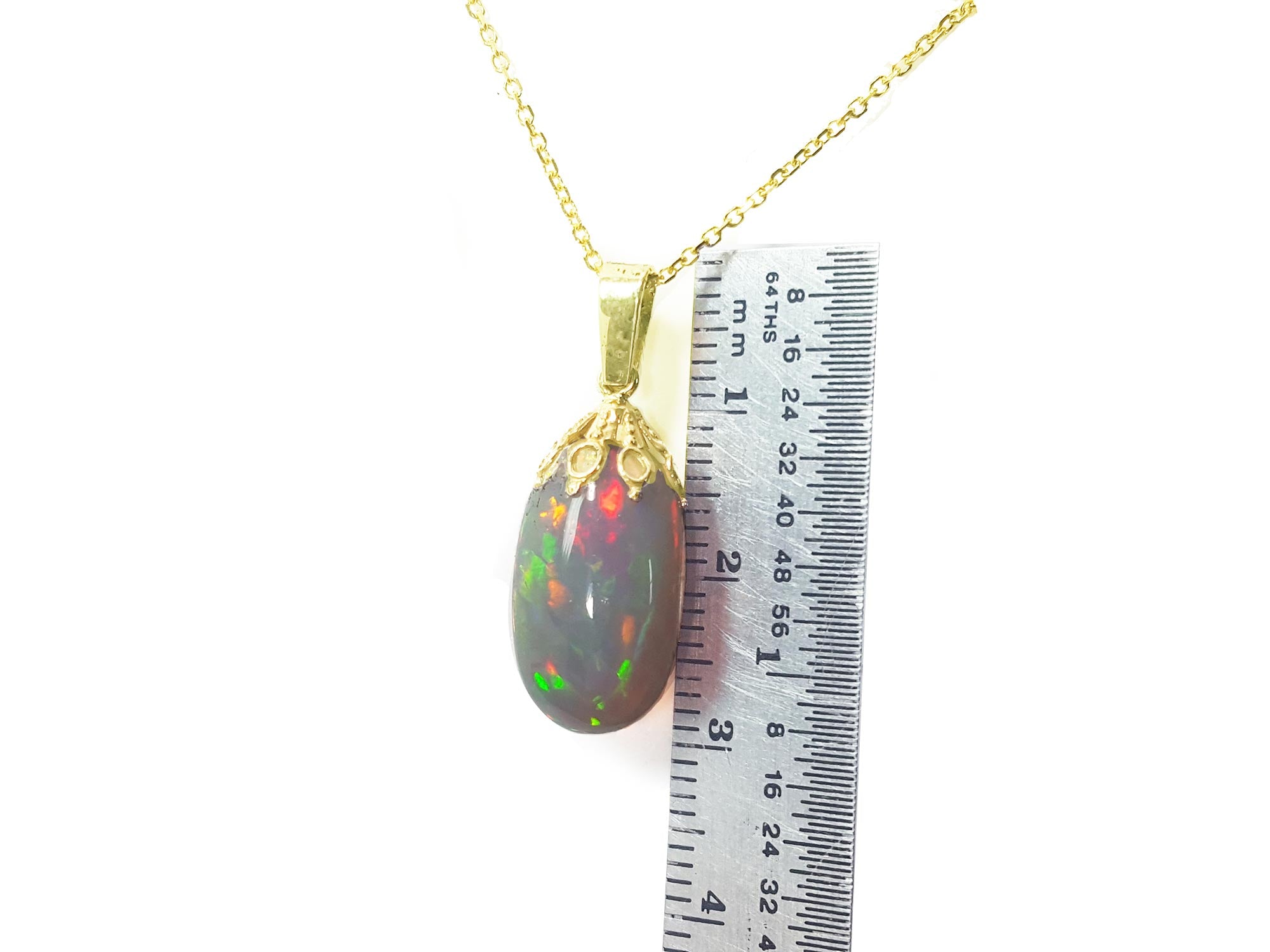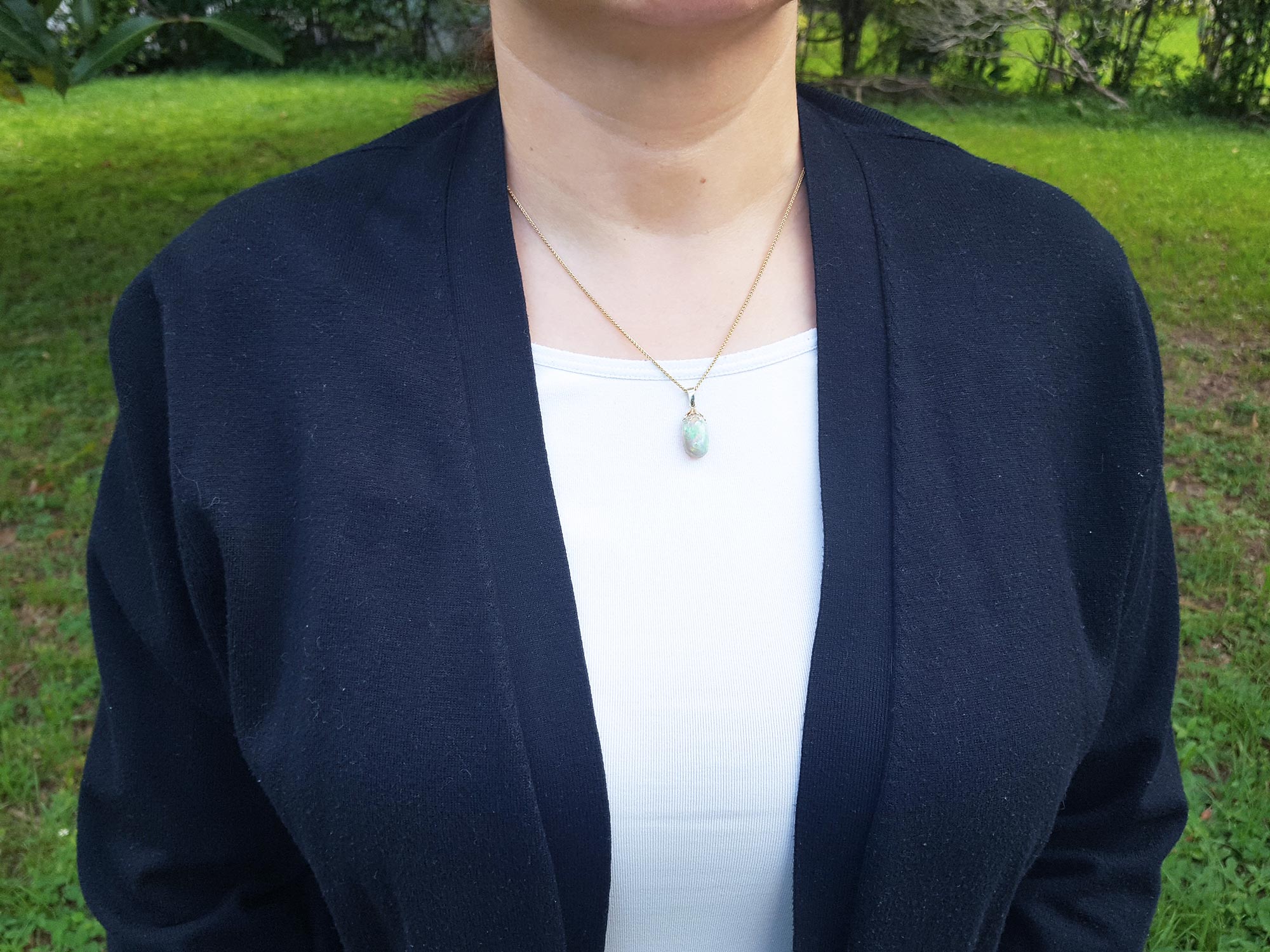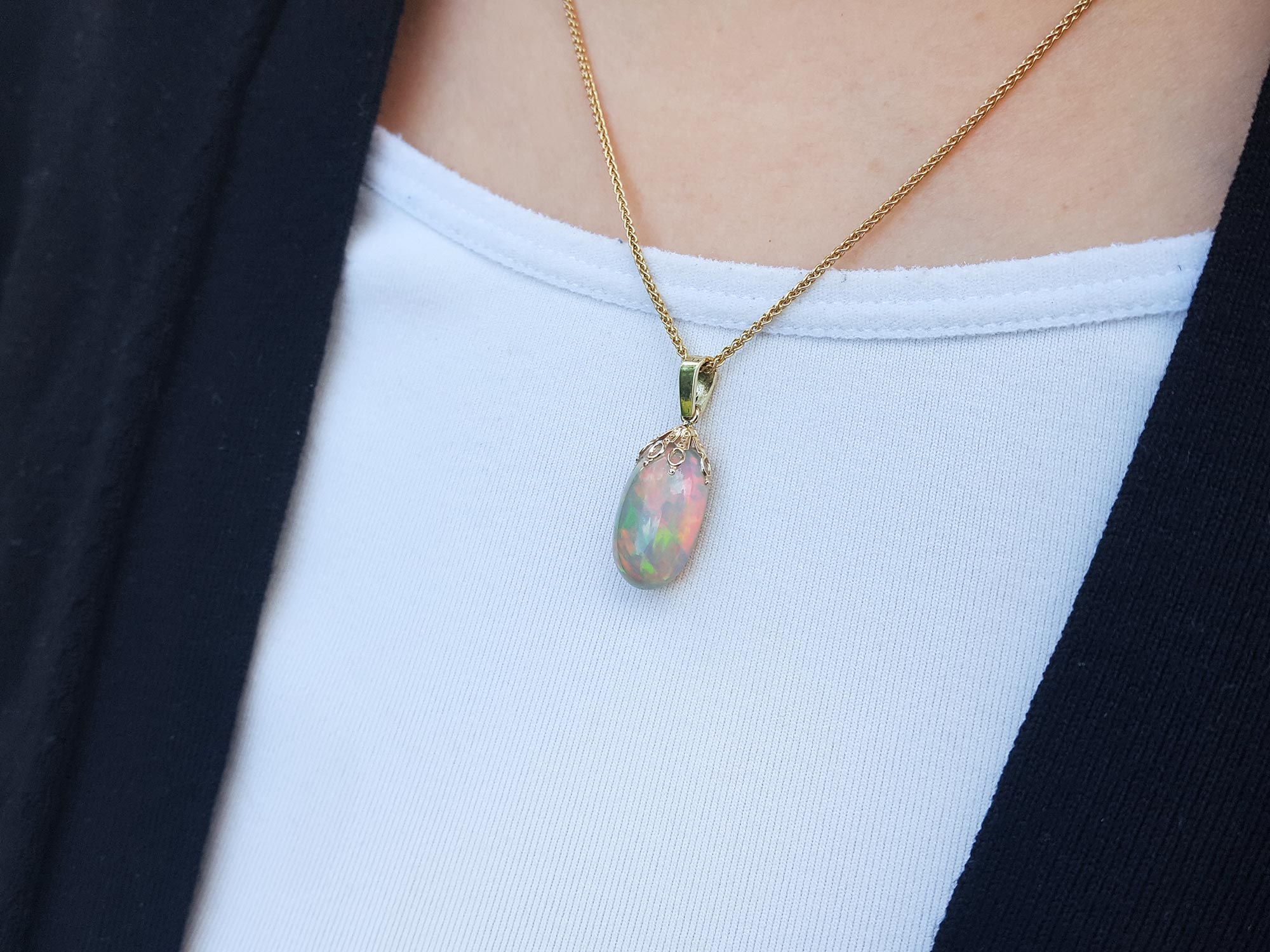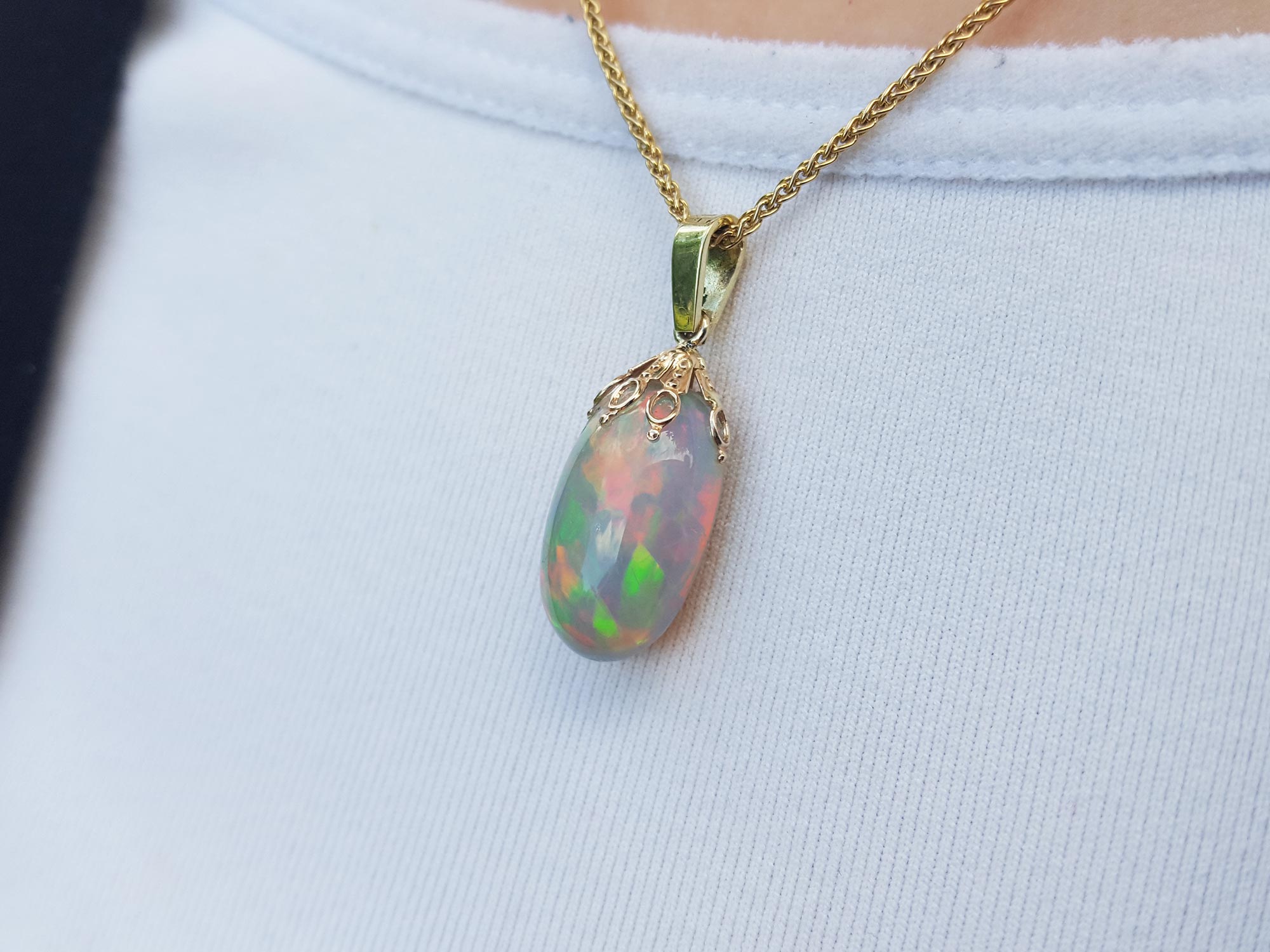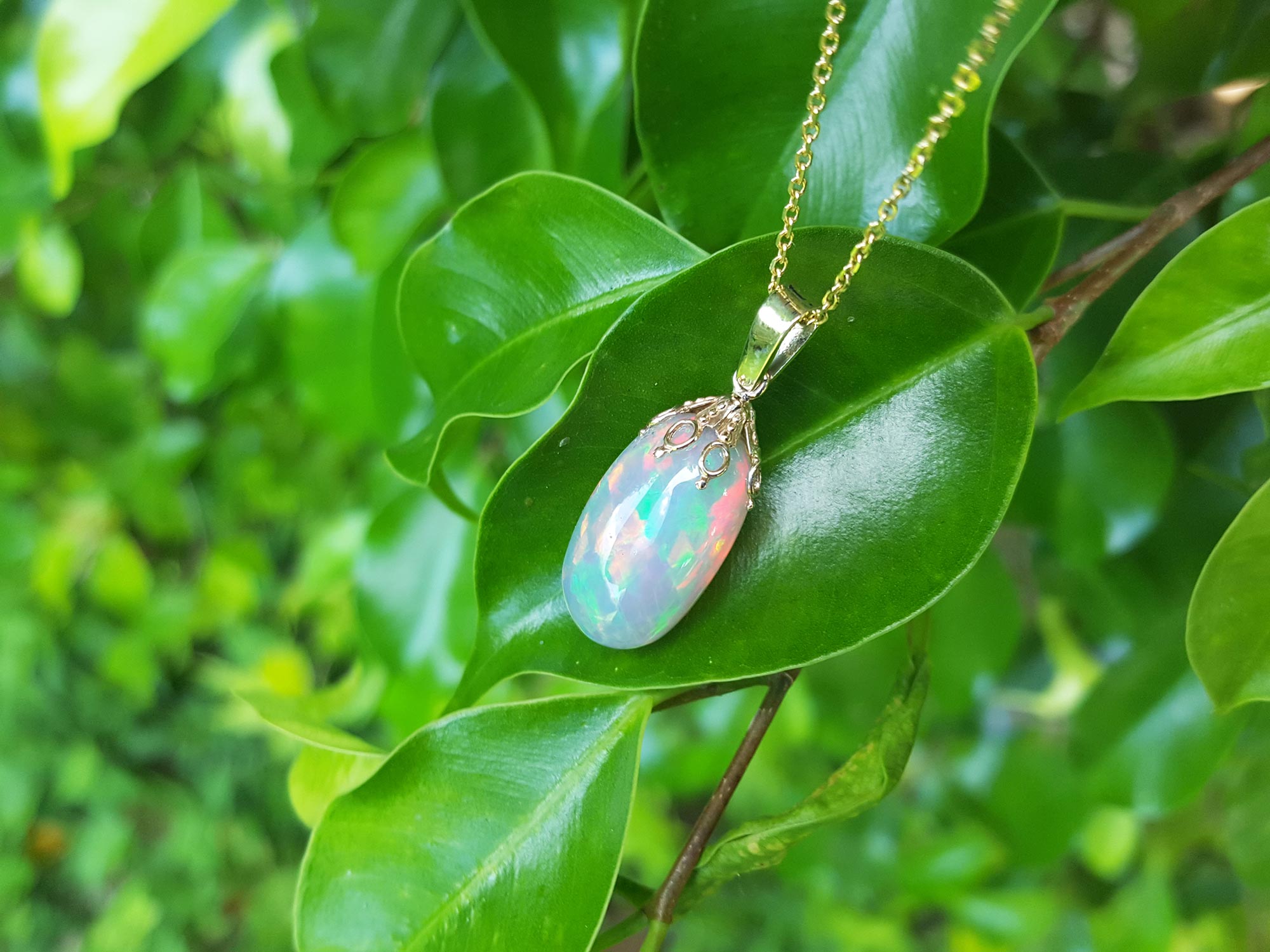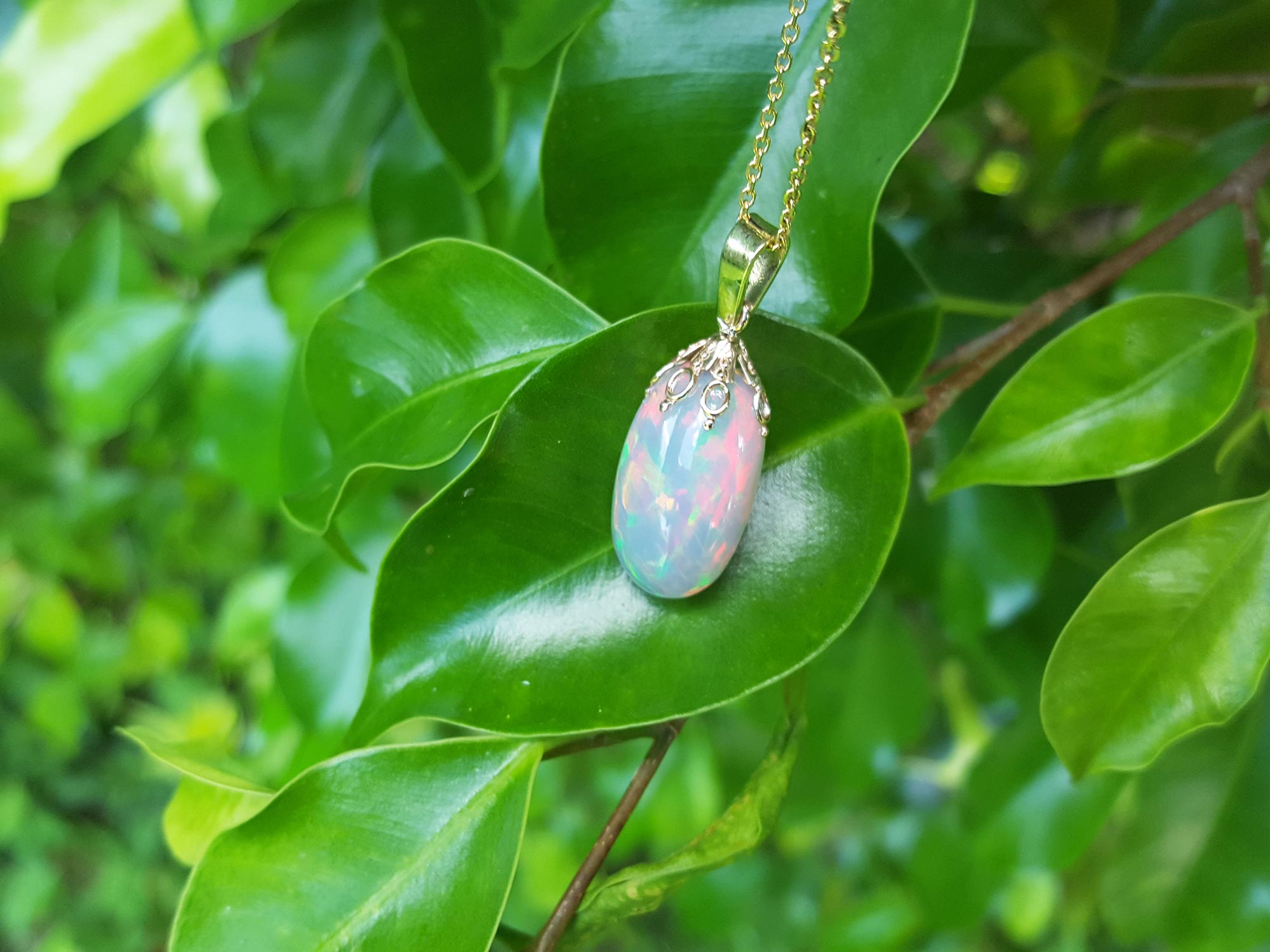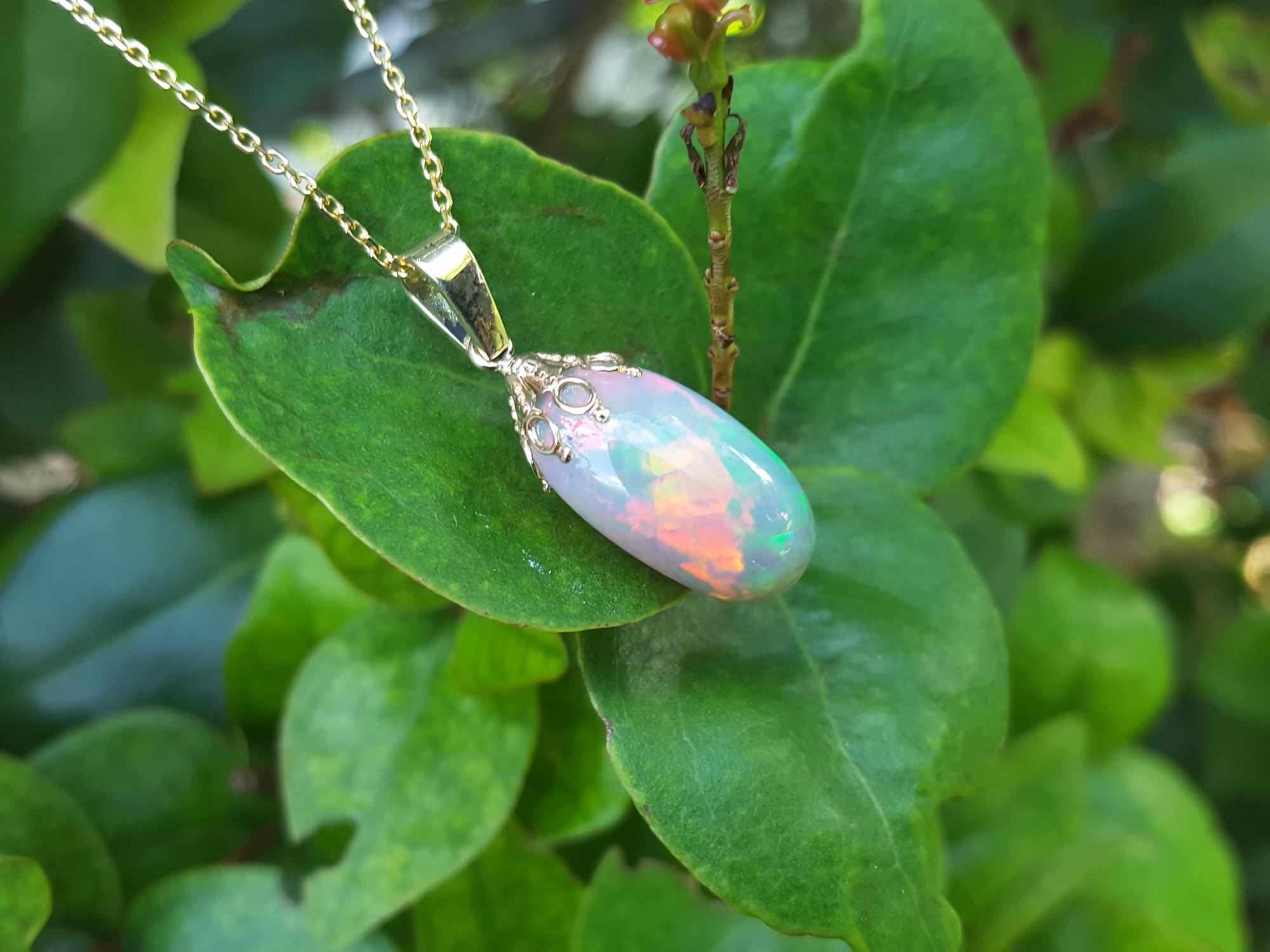 Ethiopian Welo Opal Necklace pendant 6.95 ct. Cabochon
Ethiopian Welo opal necklace pendant cabochon High quality, red fire predominantly and many others rainbow colors at any position, in 14k yellow gold.
These are real pictures and video of the actual opal item for sale.
Ref. OP355
GEMS: Genuine solid Welo Ethiopian crystal opal, elongated oval shaped cabochon 19.17 X 10.09 X 8.14 mm.
CARAT WEIGHT : 6.95 ct.
COLOR: Multicolor hues, red orange predominately and flashes of all rainbow colors
BRIGTNESS: Brightness Rating 1-5: 5
TREATMENT: No clarity enhancement
DIAMONDS: NO
GOLD: Solid 14k yellow, 1.3 grams, handcrafted. Only pendant, the chain is not included.

ATTENTION! WARNING: It is not advisable to leave Ethiopian opals in direct contact with humidity for a long time, especially if that humidity contains cream lotions or perfumes, like skin moisture WHICH COULD DETERIORATE THEIR BEAUTIFUL COLORS; I advise wearing this beautiful pendant preferably over clothing as I show in the photos.

We only sell Genuine opals and not man-made imitations.
6.95 ct. Welo Opal or Ethiopian Opal Pendant Necklace - 14K Yellow Gold
Natural Welo opal or Ethiopian opal high quality, with an impressive play of all the colors of the rainbow and at any angle you look at it and around the entire opal, that is why I preferred to leave it uncovered, to enjoy the beauty it reflects In our eyes, the camera is incapable of capturing such beauty, in person when you have it in your hands, you will wonder if this opal is real or not, Yes it is natural! Fastened by a wire gold stem with retentions so that it does not get out, approximately 0.7 mm into a hole professionally drilled inside the opal and from which the bail is attached.

Buy now this beautiful and unique Ethiopian opal pendant and get FREE second day shipping in the USA.

Proudly Made in the USA From the Jeweler to your Hands

When you purchase any of our exclusive designs, we provide you a Jewelry Sales Receipt, it displays a colorful picture of the item, shows specific information about the attributes of the gemstones, gold setting as well as the transaction details. It would be your proof of purchase and our guarantee of authenticity.
ETHIOPIAN OPAL AND GOLD ITEM DETAILS
Cabochon oval Welo or Ethiopian opal
6.95 ct. High quality natural Ethiopian opal or Welo opal necklace pendant, red fire predominantly and many others rainbow colors at any position.
Metal type
14K yellow gold 58.3% of pure gold
We do not sale mass produce jewelry, so each item is one of a kind.
All our Ethiopian opals are ethically sourced
All our natural opals are acquired from environmentally friendly sources, licensed miners and cutters.
This item was made in the USA by Emeralds & Jewelry Corp. specialists in high quality jewelry and we offer secure and free shipping on every US order.
All domestic orders are shipped next business day, after payment clearance.
Once your order has been delivered and you have signed for it,
you have seven calendar days to inspect the item(s) to make sure it is as described and it fully meets your personal expectations.
If for any reason you are not satisfied with your purchase, you may return it for exchange or refund. For more details PLEASE CHECK OUR RETURN POLICY.
Returns within 7 days receive a full refund or exchange - check our return policy
International buyers please contact us first for details
We are located in south Florida USA
Call us at 1(954) 329 7282 from 10:00 AM to 6:00 PM eastern time