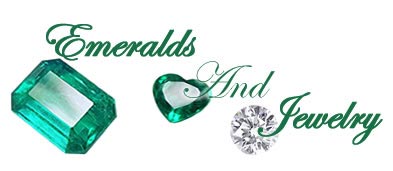 Colombian Emeralds for Sale in the USA - Only Online
WE ARE VERY EXACTING IN OUR BUYING SPECIFICATIONS:
Absolutely not cracked or external refilled fractures, mostly not black carbon spots and best commercial and affordable high quality.
Our Colombian emeralds prices per carat are the lowest in the market.
The Loose Real Emeralds for Sale that we offer here are really of Colombian origin and their pictures are of the actual emeralds that are for sale and ready to ship.
Photographing loose emeralds is very difficult to faithfully show the exact quality, color and brilliance, all photos have to be adjusted to get as close as possible to the reality of what each individual emerald is. I have not been able to make videos for loose emeralds that can give the buyer an accurate idea of what each emerald is, on the contrary, they look very different in color and quality, videos for loose emeralds do not help. Our individual descriptions are exact and without exaggeration so as not to create higher expectations for the buyer.
Real Colombian emeralds for sale
About our Emeralds for sale
There is no universal table or standard table to grade the quality of loose natural emeralds on the market. Most grading is done based on these four facts: -Carat weight or size of the emerald. - Color: hue, brilliance, tone and saturation. - Clarity: visibility of inclusions and flaws. - Cut: how well the stone is cut.
You will see many different terms describing color and quality on many different sites such as: AAA quality, signature quality, top green quality, rich grass green, etc. Also, I've seen sites offering "truly top high-quality" at around $600.00 per carat, which it is not a realistic price, or it is a wrong description.

Real Colombian Emeralds Prices: I know that all people looking for emeralds to buy want to know the real price of emeralds in the market and especially for the quality of the emerald that you want to buy, but "The value depends upon who the seller is and who the buyer is"; where are you buying it (direct importer seller or intermediary) and how wide is the selection to choose from (in stock or by ordering from another seller), Intermediaries and international gem dealers increase the price to the public by two or three times more because each of them wants a profit.
We acquired our loose Colombian emeralds directly from the miners and cutters in Colombia; my 30 years of experience and knowledge in the emeralds and jewelry business makes to me an expert and a smart wholesale buyer, to get the best commercial high quality emeralds available in town at the best price possible, grabbing the opportunity for a good price at the moment, I am a native of Colombia and I speak their language, I went there a merchant like them and I understand the market.
Our grading emerald color table:
It is not possible to create an accurate and understandable color and quality grading chart for all emeralds because the variety is really wide, so we narrow them to the quality that we handle:
From: good brightness, very good brightness to really good brightness and vibrant brightness. From light green to deep green, not black spots and not external fractures refilled with synthetic resins.
All genuine emeralds have natural flaws, from clean to unaided eye to visible natural flaws; any gem without inclusions is probably synthetic or imitation, because "they naturally are always included."
When the over saturated chromium and also sometimes vanadium atoms stress the beryl crystals, it produces internal micro-fissures what is called Jardin (flaws) "a unique garden of inclusions that gives to each natural gemstone its one of a kind birthmarks." we do not acquire them heavy included.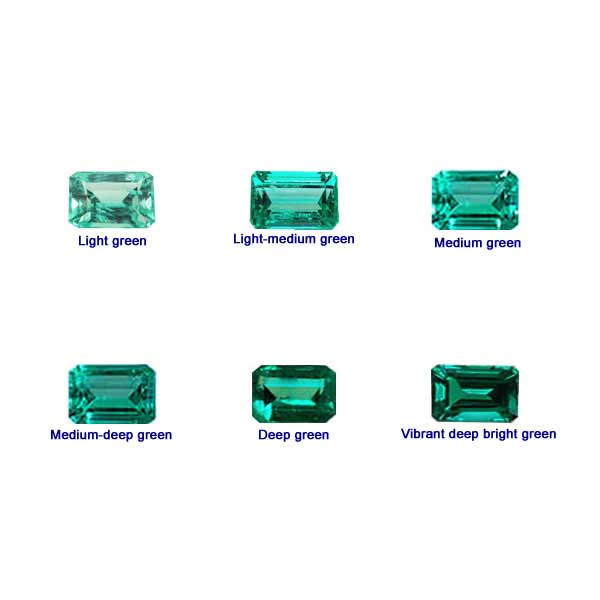 In my opinion, the treatment for these internal micro-cracks is better to use a stable or permanent resin filling to prevent future changes within the gemstone once in the hands of the user, BUT NOT if it is to hide holes or serious external fractures that compromise the integrity of the gem, which is deceptive; In addition, the so-called commercial cedar oil used in laboratories for precious stone treatments is also synthetic.