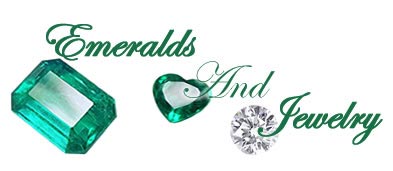 Muzo Emeralds - Colombia
Muzo is the name of the native tribe that inhabited that area when the Spaniards invaded them, after 20 years of fighting and took control by force.
When I talk about the Muzo mine, it does not mean that there is a single huge hole in the earth from which all the emeralds are extracted; Muzo is an area of 154 Km2 situated in the western foothills of the eastern branch of the Colombian Andes and is distant about 205 Km (127 miles ) from Bogotá which is the capital of Colombia; The Muzo area has a municipality or town with around 10,000 inhabitants and most of them live from agriculture on small farms around the town.
It is very normal that in this area any farmer finds emeralds when doing his field work digging in the earth and if he is lucky, digging more he can find more emeralds. In the Muzo area there are many mines or excavation spots, with different names and locations that are rustically exploited. The most productive mines are those legally established and exploited within state regulations and they do so with sophisticated machinery in the deep excavation of the mountain. That is why I usually say MUZO MINES when I talk about my emeralds that I offer in my online store, because most of them are from the Muzo
mines. In the same region, not far away there are other mines such as Coscuez, Chivor, Peñas Blancas and La pita, exploited in the same way and beautiful emeralds are also extracted from these mines, the emeralds from the Chivor mines are very famous for their crystalline material very bright and bluish green color, which is exceptionally beautiful.
How to purchase an emerald and find out if it is real or not?
The similarities between a natural and a man-made (or lab created) emerald/imitation can be difficult for the average person to determine and far more difficult if the stone is set already in a metal mounting.
Then how to know if the loose emerald or any piece of jewelry with emerald you are buying is real or not?

Never inspect gemstone without a X10 loupe, if you don't have one, ask the seller for a 10x loupe or a good magnifying lens and a bright light.
Loose Emeralds Buying Tips:
Hold the emerald with your hands or a safe Jewelry Tweezers and start looking for natural flaws or minor imperfections within the emerald's crystal which are clear indication that it is a natural or earth mined emerald, the most common natural flaws found in a natural emerald are tiny pores or fibrous lines that can be spotted in the pavilion (back side) of these precious green gems.

Precious gemstones are identified as genuine for their unique natural defects or inclusions also known as birthmarks, it is extremely rare to find flawless or perfectly clean emeralds.

Carefully inspect the girdle (thin perimeter or outline of the emerald) to make sure it does not have thin slides/layers fused or assembled, if the emerald is already set in a mounting and it's fully covered and you can't see the pavilion it's better no to purchase the item since it might be a lab created emerald or concealing a fake background to show deeper color. There are a lot of tricks like doublets made with colorless beryl and dying color agents. See more here

If you are buying a ring or pendant with a bezel-set emerald, make sure that the underneath is uncovered to allow the passage of light and let the emerald displays its natural green color and facilitate the cleaning and maintenance. You can also find emeralds and other color gemstones with noticeable color zone..