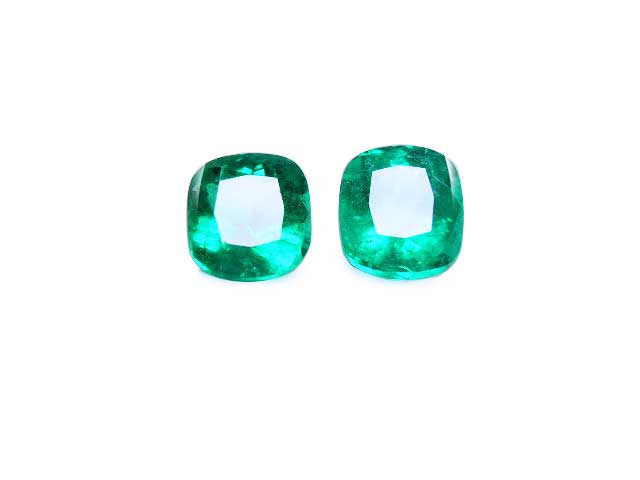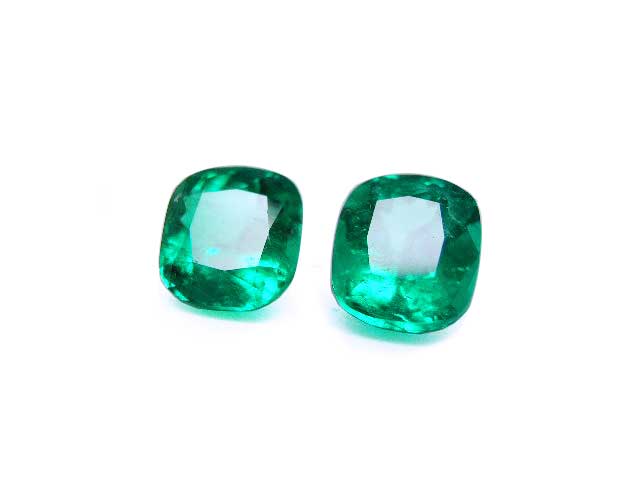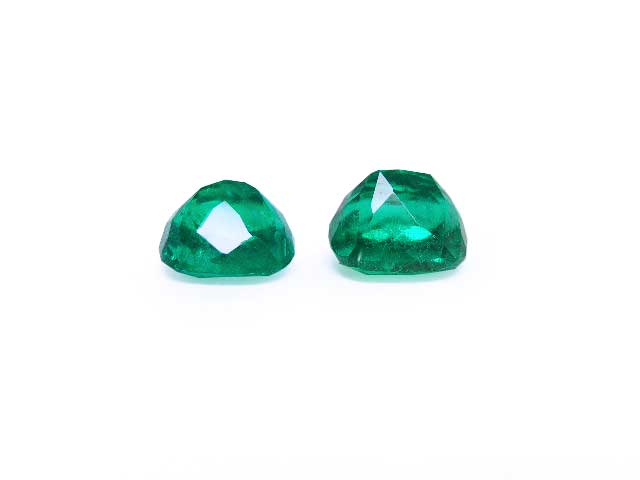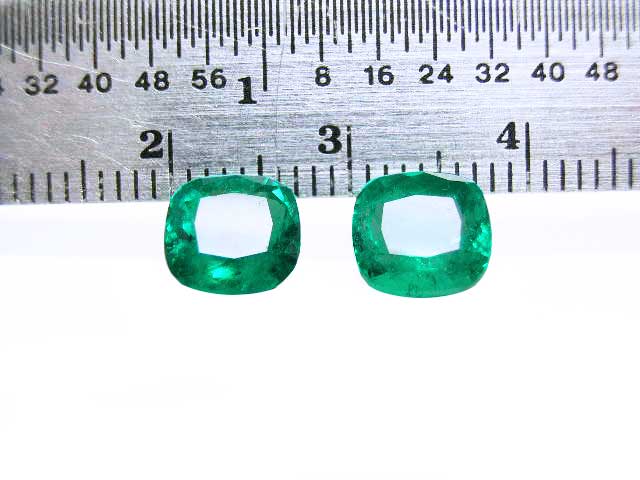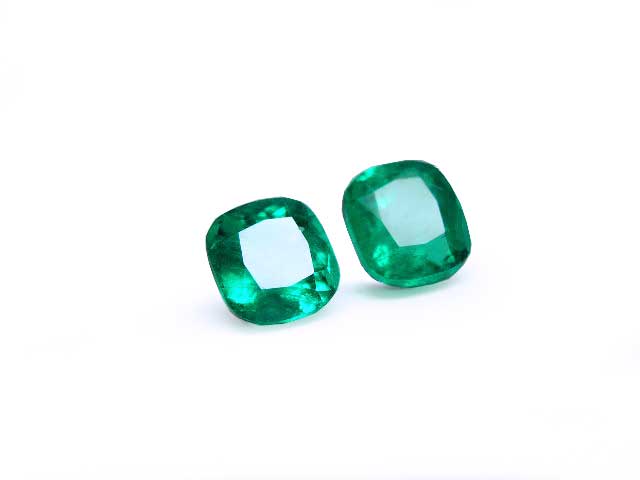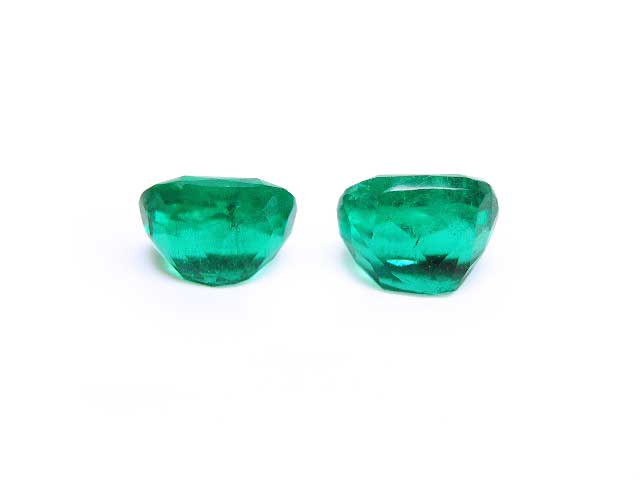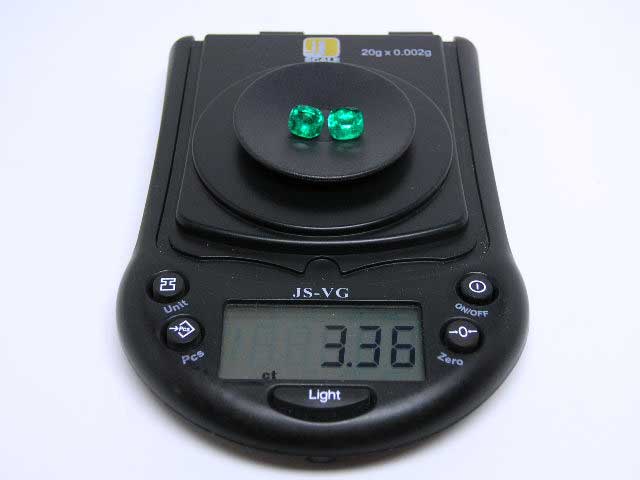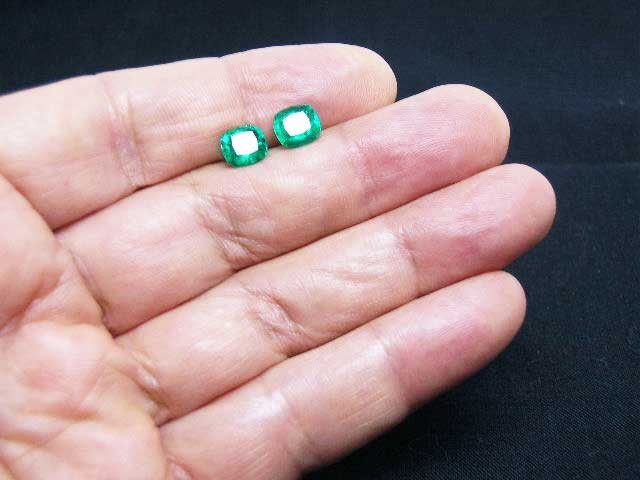 3.36 ct. Cushion cut matched pair natural emeralds for sale
Natural loose cushion cut emeralds for sale matched pair from the Muzo mines, perfect for a unique design of high quality earrings at affordable price.
$9,745.00 USD
Sale

• Save
These are real pictures of the actual loose emerald for sale not computer renderings.
Ref. LEM337
GEMS: Natural Colombian emeralds, high quality matching pair
CARAT WEIGHT: 3.36 Carats total weight
COLOR: Vibrant deep green / very good brightness
CLARITY: Clean to bare eye, natural flaws absolutely normal in all genuine emeralds. They do not have carbon spots, cracks or external refilled fractures
SHAPE OR CUT: Cushion cut / good symmetry
MEASUREMENTS: 7.57L x 6.95W x 5.41D & 6.74L x 7.35W x 4.70D mm.
TREATMENT: Minor clarity enhanced with permanent colorless resin to avoid future clarity changes and re-oiling process.
We only sell Natural Colombian Emeralds, not man-made.
This pair of cushion cut emeralds are high quality
With a vibrant bluish green color that shine from any angle, due to their fantasy cut; their pavilions or the back of these two emeralds, they show some small differences in their cut, which do not affect them as a matching pair, and this is due to the position of the color in each one of them, but seen from the front side or table and well together, they have a high similarity between them in their color intensity, crystalline brightness and size, which is what really counts, to make two beautiful high quality earrings. Both emeralds have even color.

Buying this beautiful and unique Colombian emerald you will get FREE second day shipping in the USA.

We are located in the USA - From the direct importers to your Hands
When you purchase any of our Colombian emeralds, we provide you a Gemstone Sales Receipt, it displays a colorful picture of the item, shows specific information about the origin & attributes of the gemstone, as well as the transaction details. It would be your proof of purchase and our guarantee of authenticity of the emerald you bought.
More details and information about this Colombian emerald
Cushion cut emeralds
3.36 ct. Natural loose cushion cut emeralds for sale matched pair from the Muzo mines, perfect for a unique design of high quality earrings at affordable price, all natural gems have natural inclusions.
All Colombian emeralds are cut by hand; therefore, each emerald is unique and their measurements depends on the original rough shape, size and color
About the color position in natural emeralds
All emeralds or beryl have a natural formation of cylindrical and hexagonal shape, naturally the color is not even throughout all the rough cylinder, the color is found as a layer of color around the cylinder thin or thick and more accentuated at the base of it which is one of the tips of the cylinder; viewed from the side, the cylinder is bluish and when viewed from one of the tips, the color is yellowish, the diagonal cut of the stone taking the two combined colors, the two perfectly balanced colors, the desired bluish green appears into the gem already cut, if the miner is lucky and finds this base with solid color, then the gem will have an even color, but if the color is not like that then it will be a gem with the color in a large or small zone, that depends on the position and shape of the rough emerald stone.
All our loose Colombian emeralds are Ethically sourced.
All our loose Colombian emeralds are acquired from environmentally friendly sources, licensed miners and cutters.
This natural Colombian emerald has a moderate modern clarity treatment with permanent colorless oil, as normal part of the post lapidary process.
We offer secure and free shipping on every US order. All domestic orders are shipped next business day, after payment clearance. Once your order has been delivered
and you have signed for it, you have seven calendar days to inspect the item(s) to make sure it is as described and it fully meets your personal expectations.
If for any reason you are not satisfied with your purchase, you may return it for exchange or refund. For more details, PLEASE CHECK OUR RETURN POLICY.
Returns within 7 days receive a full refund or exchange - check our return policy
International buyers please contact us first for details
We are located in south Florida USA
Call us at 1(954) 329 7282 from 10:00 AM to 6:00 PM eastern time