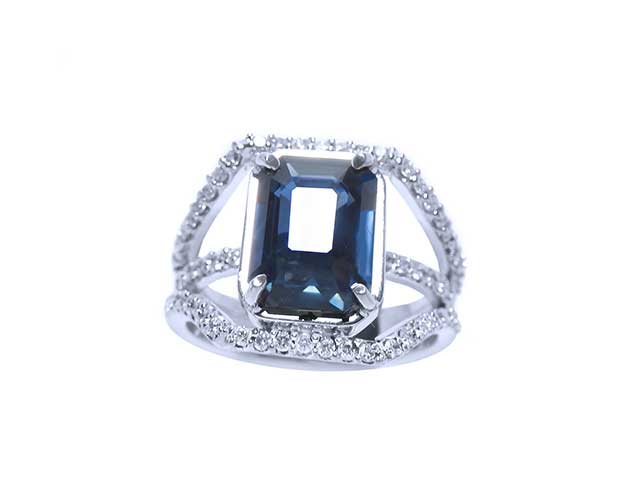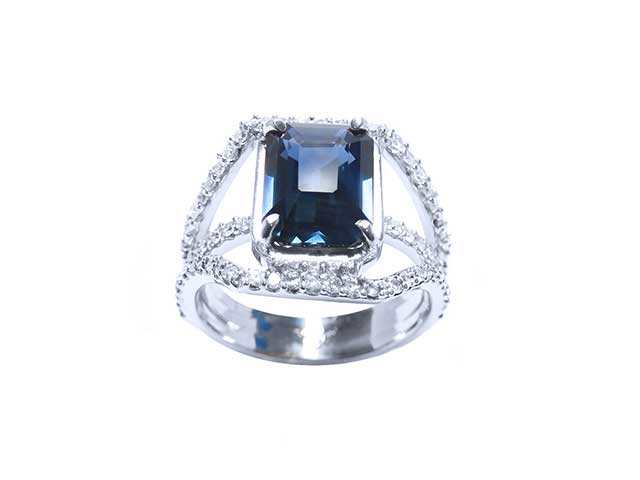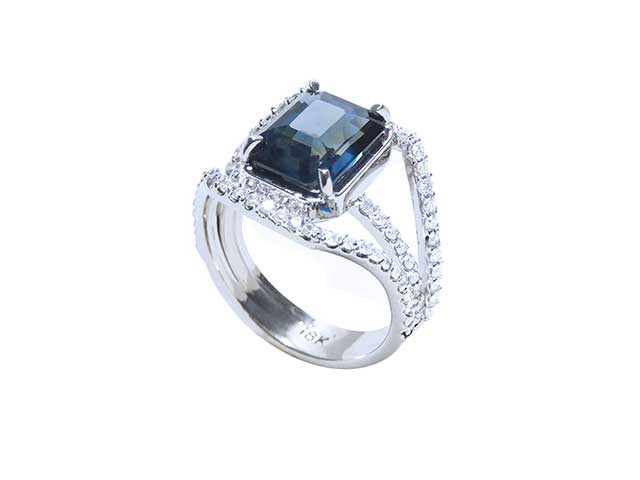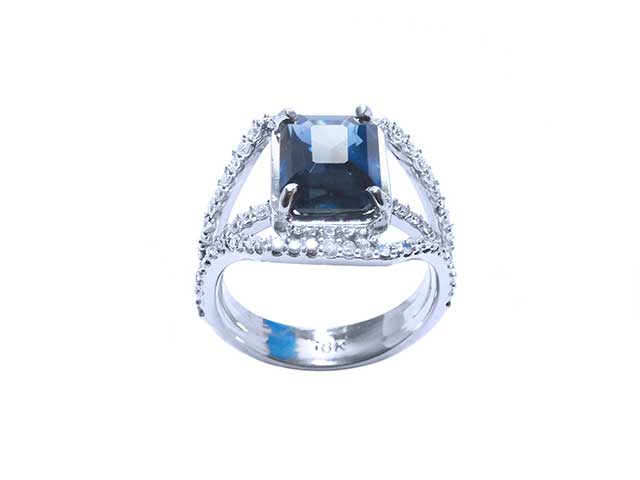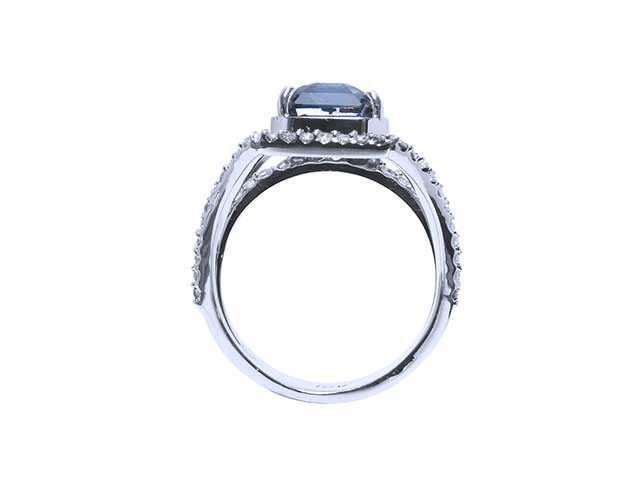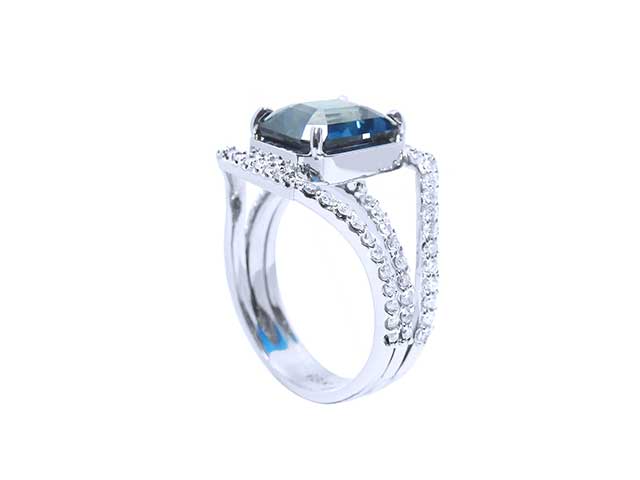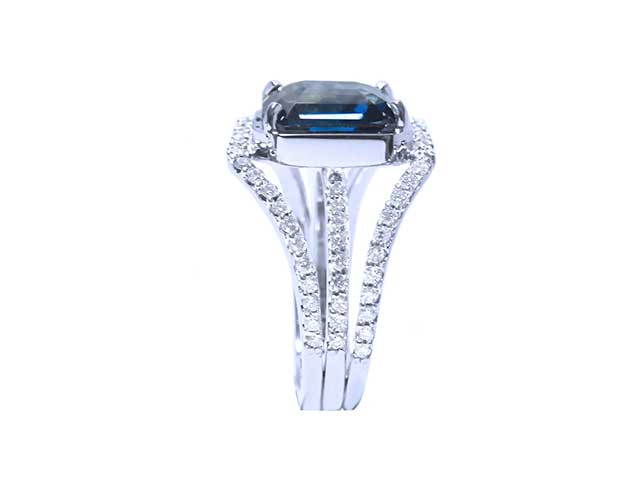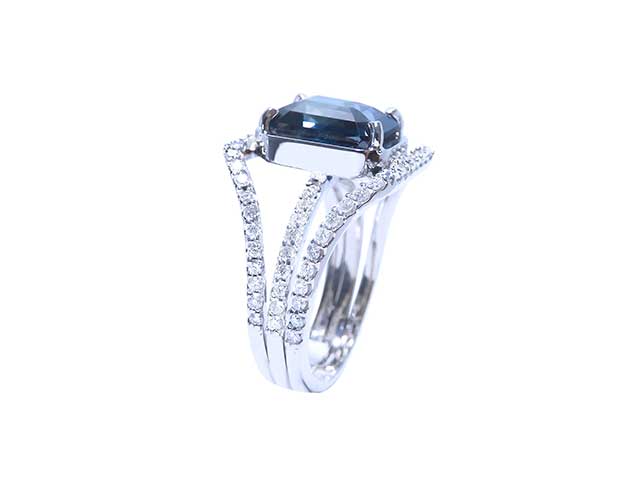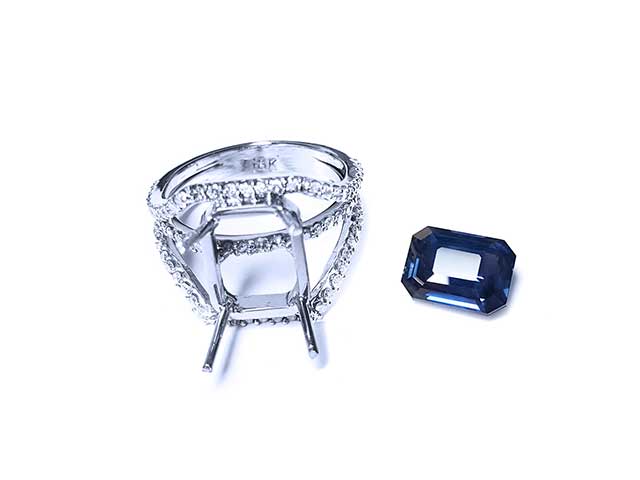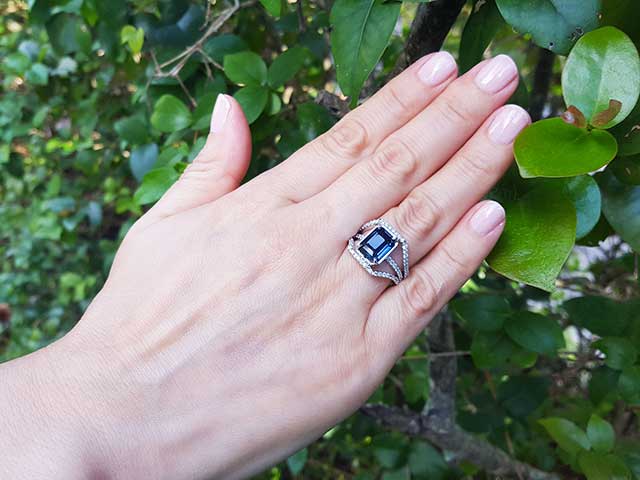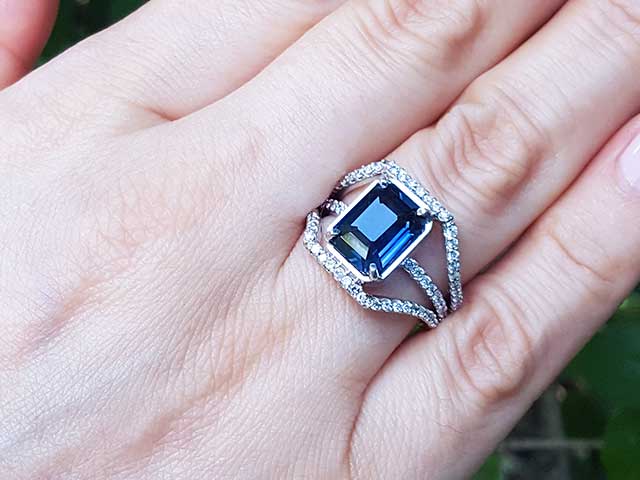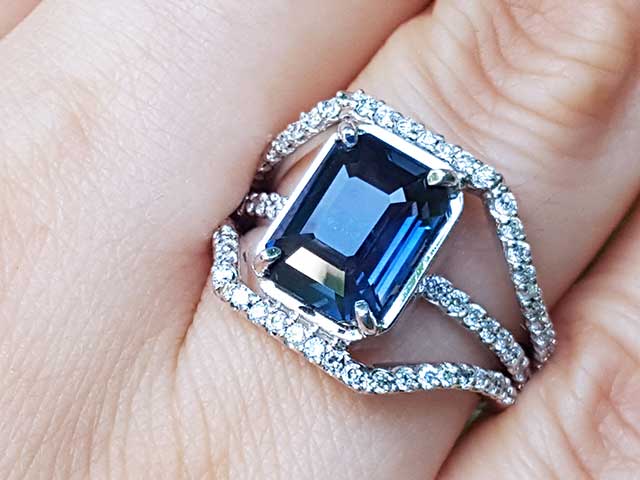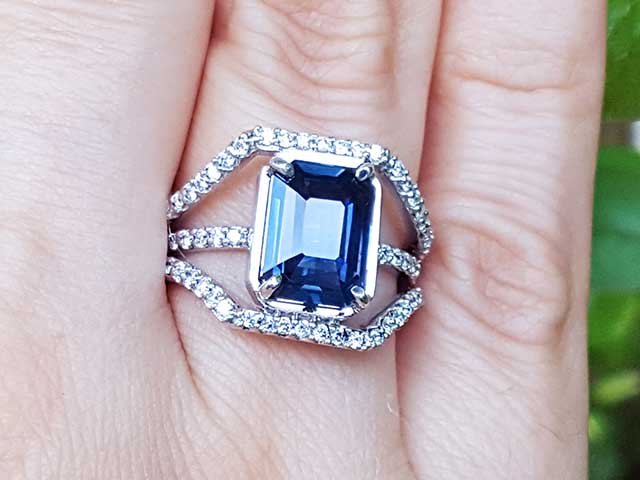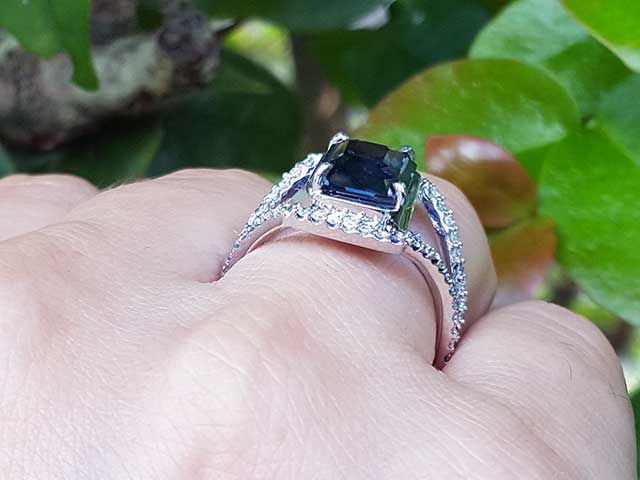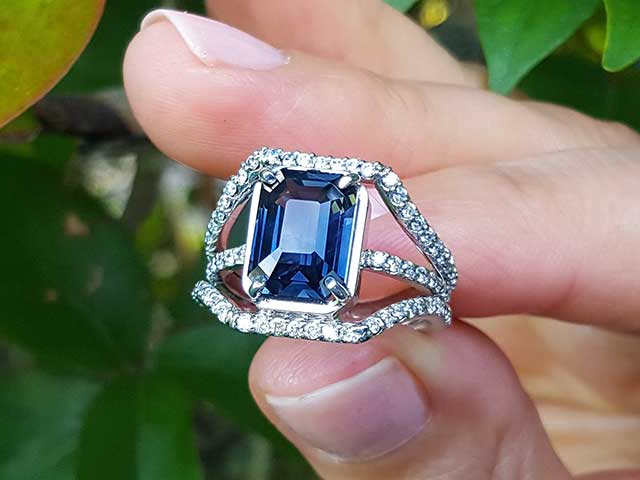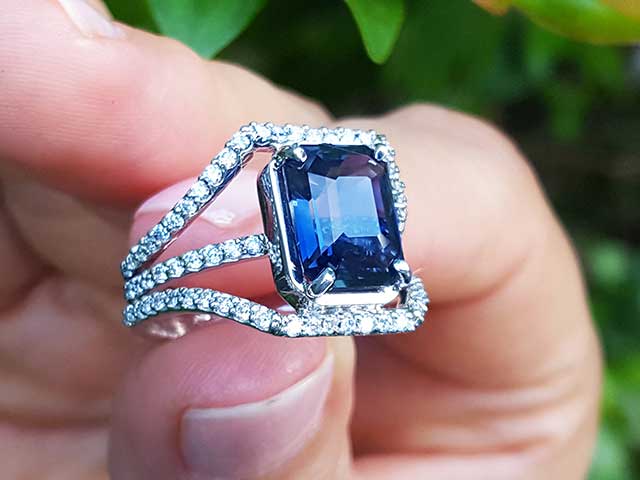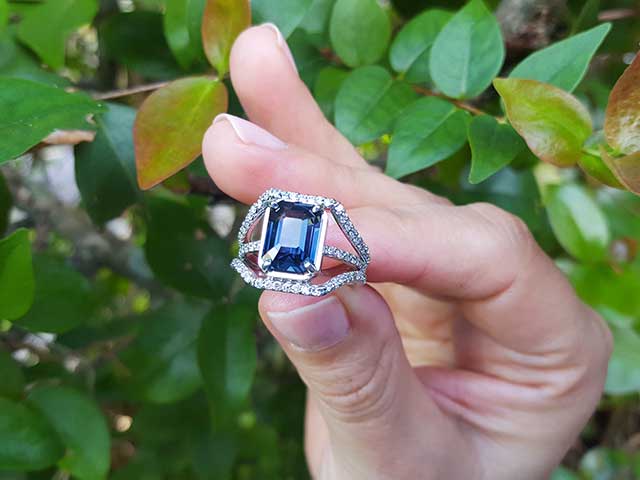 Certified Untreated Women's Blue Sapphire Ring for Sale 18K
Women's Certified Untreated blue sapphire ring for sale, 4.51 ct. rectangular emerald cut medium dark blue on top three row band-rings with diamonds, in 18k gold.

$5,890.00 USD
Sale

• Save
These are real pictures and video of the actual item for sale not computer renderings.
Precise details of this blue sapphire ring for women

Reference #SR501
MAIN STONE : Genuine or natural blue-green sapphire
CARAT WEIGHT : 4.51 ct. 10.37 X 7.82 mm.
SHAPE & CUT : Rectangular emerald cut
COLOR : Medium dark blue green very brilliant
CLARITY : UNTREATED No cracks, no fractures or black spots, natural flaws as normal in natural sapphires
DIAMONDS : Rounds 0.76 ct. -G H Color, -VS1 Clarity (white very brilliant)
METAL TYPE COLOR & WEIGHT : Solid 18k white gold, 8.0 grams, size #7.
We only sell Natural gemstones and Colombian Emeralds, not man-made.
This 18k white gold sapphire ring
Beautiful, brilliant and crystalline untreated blue sapphire of 4.51 ct. rectangular emerald cut, the Sri Lanka EGLab GEM IDENTIFICATION REPORT provided by the dealer says blue-green in color, but the intense blue is the predominant color, especially in daylight, as can be seen in the photos and video, the soft green color appears under the light of the lamp or interior light, as can also be seen in the photos with no background; perfectly set and supported by four prongs at the top of three rows of natural diamonds, which meet at the bottom of the ring, crafted in 18k white gold exclusively for this spectacular gem; very appropriate as an engagement ring, for a very affordable price, taking into account the size of the sapphire.

Sapphires are the second hardest gem after diamond and are a member of the corundum family; The most popular color in sapphires is blue, but they are found in almost all colors. For centuries it has been considered a gem of high hierarchy and economical power throughout history. Giving a sapphire symbolizes a pledge of trust, loyalty, and sincerity. That is why the sapphire has long been a popular choice as an engagement ring. Sapphires like 95% of all gems on the marketplace have been artificially enhanced to improve their appearance and color, it is an accepted practice in the gem business; but when Gentle heat is applied to the gemstone for a period of time or thermally enhanced in furnaces, resulting in a Sapphire with improved clarity and color. But no way another kind of treatment, such as chemical flux filling, resulting in a glassy mass filling in cavities and fractures, which in a short time disintegrates and reveals the poor quality of the gem. in extreme circumstances, are literally held together by the glassy filler.

Buy now this beautiful and unique sapphire ring and get FREE second day shipping in the USA

Proudly Made in the USA From the Jeweler to your Hands

When you purchase any of our exclusive designs, we provide you a Jewelry Sales Receipt, it displays a colorful picture of the item, shows specific information about the attributes of the gemstones, gold setting as well as the transaction details. It would be your proof of purchase and our guarantee of authenticity.
SAPPHIRE AND GOLD ITEM DETAILS
Rectangular emerald cut sapphire
4.51 ct. Certified untreated blue sapphire ring for sale, rectangular emerald cut medium dark blue on the top of a triple band-rings with natural diamonds.
Our designs are unique and proudly made in the USA.
Metal type
18K white gold 75% of pure gold
We do not sale mass produce jewelry, so each item is one of a kind and this unique emerald ring can be re-sized up or down at not additional cost.
Accent gems
0.76 ct. prong set round-cut sparkling natural diamonds.
Grade of diamonds: SI1 clarity HI color.
All our sapphires are ethically sourced
All our sapphires are acquired from environmentally friendly sources, and licensed dealers.
This sapphire and gold piece was made in the USA by Emeralds & Jewelry Corp. specialists in sapphire and emerald jewelry and we offer secure and free shipping on every US order.
All domestic orders are shipped next business day, after payment clearance. Once your order has been delivered and you have signed for it,
you have seven calendar days to inspect the item(s) to make sure it is as described and it fully meets your personal expectations.
If for any reason you are not satisfied with your purchase, you may return it for exchange or refund. For more details PLEASE CHECK OUR RETURN POLICY.
Returns within 7 days receive a full refund or exchange - check our return policy
International buyers please contact us first for details
We are located in south Florida USA
Call us at 1(954) 329 7282 from 10:00 AM to 6:00 PM eastern time